Caravan Advice - DIY - Feedback - Handy Hints - Maintenance - Miscellaneous - Your Questions
---
Roger smith - Magic sponges
Hi Graham, long time no see, please don't use these sponges on a polished surface as they will cut the paint , but ok on exterior trim
---
Joe Nutton - Carver heater blockage
Took out and stripped down my Carve Cascade heater as water was coming out of the caravan cold taps but not the hot taps via the heater. Turned out to be an accumulation of calcium deposits in the non return valve at the heaters cold inlet.
Could have saved a lot of work by taking off the drain plug and turning on the hot taps to start the pump then clearing the blockage with a stiff wire through the drain plug outlet.
4 April, 2010
---
Bryan Donkin - tow Bars and the MOT
Just to heighten awareness, that, with effect from the end of April 2009, tow bars, their anchorages and electrics became part of the MOT.
---
Jeff Watson's Top Tip
Spray the ends of awning poles with Fabsil tent waterproofer Not only will it lubricate the poles but it will help to prevent rust from forming.
Fabsil is also very good for lubricating zips and the zips are water proofed at the same time.
---
Sue's Top Tip!
| | |
| --- | --- |
| | We were about to set off home from Lakeside ( York ) when our grey plug fell to bits! We ended up having to travel a round trip of 30 miles to buy a new one (£1-99), a costly trip. We now carry a spare black and grey plug for the 12volt electrics. I know it's difficult to try not to carry everything but without this we couldn't have travelled home legally. |
---
Michelle's Top Tip!
Roll your quilt up and put it into a pillow case. It keeps it nice and compact and can fit behind the front seats of the car. Great footrest for the little ones.
---
Motor Vehicle / Caravan Paint Mix by Lobey Dosser
This Paint is for any motor vehicle or caravan.
It is Exterior Gloss Paint (the runny stuff not the Gel type).
This is mixed;- 75% paint to 25% Clear Varnish.
Then when you put it into a spray gun, you thin it 50/50 with Petrol. (and don't smoke!!!!).
I would suggest that you use a HVLP spray gun. (High Volume Low Pressure).
This mixture is used by the Travelers. I call it "Tinkers Paint".
Either way, it works and I have seen vehicles that were painted by this method 10 years ago and they are still looking good.
---
Get ready for winter
| | |
| --- | --- |
| | When preparing your van for winter lower the jockey wheel to make the front of the van lower than the back. Rain or snow will then be able to flow off the roof of the van. |
---
swapping number plates
| | |
| --- | --- |
| Do you have more than one towing vehicle? swapping number plates around can be a pain. Sticky backed velcro attached to your towing plates can make this much easier and if you reinforce it with epoxy glue when you initially attach the velcro it's unlikely to come off. | |
---
Spice it up
| | |
| --- | --- |
| | If you like your food to be as tasty as home cooking you'd do well to pack a range of herbs and spices. You'll find the plastic canisters used for camera film make excellent herb pots, weigh less than glass jars and take up much less room. But don't forget to label them! |
---
Does your caravan roof light let in too much early morning sunshine?
| | |
| --- | --- |
| Make yourself a black out pad by covering a piece of cardboard cut to the right size with dark fabric (an old black T-shirt will do the trick). Pop it into a plastic bag to keep it waterproof and hold it in place between the roof vent and the fly screen. Instant darkness! Now all you need to do is find a way to stop the birds waking you up and you can enjoy a lie-in! | |
Cool Fresh Water
When travelling and on site we use a small thermos flask with spout to hold fresh water, this is great for both us and the dog as we always have a supply of cool fresh water, winter and summer alike. As the container is insulated it means the water stays cool in summer and does not freeze in winter. We have the flask on top of a small bucket in the awning on site with the dogs water bowl below it, just turn the tap and an instant fresh supply of water lands in the bowl ready for her to drink!
---
Wheelie good idea!
Wheeling the wastemaster back to your caravan leaves the wheels often dirty. Before putting it into the caravan pop a shower cap on each of the wheels to protect the carpets at practically little cost.
I pride myself on being able to fix my car engine in an emergency. But rummaging under the bonnet ruined my clothes and I didn't always have time to change.
Next time it happened I cut the sleeves off an old shirt and slipped them over my clothes!

Stops Damage!


If you need to rest a ladder against the caravan, prevent damage to the awning rail by using Pipe insulation
Prevent the Toilet roll from unraveling when you are travelling by putting an elastic band around it. Works with kitchen roll holder too!
---
Tips from various sources!
Wind an elastic band round the top of a jar or bottle two or three times and it screws off with little effort.
Remember to take a tin of talc with you when you go to the beach with the kids. It cleans sand off tender skins quickly and painlessly.
Pour boiling water over the tomatoes and they peel so easily! Same applies to plums.
Before frying, grilling, or barbecuing sausages, skewer them together. Then you can turn them quick and easily!
Make a luscious topping by mashing a banana with strawberry jam. tastes like strawberries and cream!
Wooden blocks make ideal caravan levelers. Cut into blocks about 25cm square and 5cm thick with a handsaw.
When connecting a spare battery in your caravan always connect the negative (earth) lead Last.
Use old strips of carpet of carpet to put under car wheels in muddy conditions, also use them to protect your awning groundsheet.
Keep an old towel in the boot of your car along with a pack of baby wipes, if you have to tinker with the engine or caravan you can clean your hands.
Line your grill pan with foil to improve grilling efficiency and save cleaning.
Spray the walls of your shower with canvas damp proofing liquid - just watch the water roll off - little cleaning to do! Try a small area first to check that plastic surfaces are not softened.
Paint a white strip on the edges of your step to help you see it in the dark.
To reverse in a straight line look in the door mirrors and pull the wheel down on whichever side a rear corner of the caravan is visible. If neither corner is visible you're pretty straight.
Keep a spare pair of curtains for your awning and use them as tablecloths.
Use olive oil to lubricate your Porta-loo blade.
Lubricate sticking awning zips with soap, candle wax or furniture polish. Silicon spray works well on them too!
Lubricate your awning rail with spray furniture polish.
Get your charcoal bbq going using a catering size tin can with the top and bottom removed. Pile the charcoal inside, add lighting fuel and apply a light. Punch holes in the bottom to aid ventilation.
To assist in the draining of your water system remove the shower head and blow down the shower hose selecting the hot and cold alternatively until all the water has been expelled.
Fit an indicator light inside your caravan to remind you that your awning light is on.
If you use an onboard water tank then fit a warning light to show when your external pump is running.
Use non-slip matting to stop things sliding around in cupboards and draws when traveling.
If doubtful about the operation of your fridge place an ice cube in a plastic cup inside the freezer compartment. If it retains its shape for a few days then all is well. If it melts or melts and refreezes you know there is a problem.
Peg clothes to hangars so they don't fall off in transit.
An apple placed in a bag of potatoes will keep them from budding longer
To clean messy BBQ grills, use 1/2 onion to scrape off grease and burnt on food pieces. You use the 1/2 onion like you would a scouring pad or brush.
Put a few grains of rice in your salt shaker. It keeps the salt from clumping together.
---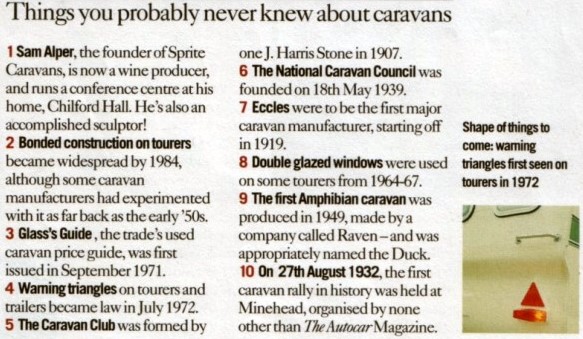 ---
Caravan Advice - DIY - Feedback - Handy Hints - Maintenance - Miscellaneous - Your Questions
Have you got a handy hint or tip, please use the Add a Tip form to have it added here!
Please Support Thomson Caravans
History & Information by donating via Paypal.
The advice and tips on Thomson T-Line History & Information are free to copy for personal use, if you are a webmaster or company who wishes to use these sheets for your business or website please ask permission from the webmaster.
Thomson T-Line History & Information shall not be liable for any damage or difficulty, direct or indirect, arising from utilization of the information contained within these pages.