The Whys and Wherefores of "The Motor" caravan
Tests and a Summary of Some of the Findings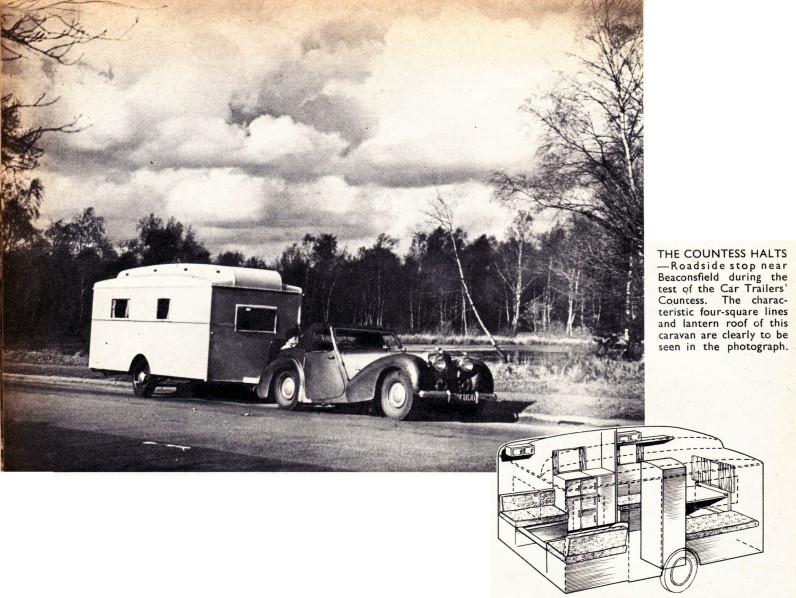 WHEN, towards the back end of 1949, it was decided that "The Motor" should devote more attention to caravanning, several important problems had to be resolved before the matter could be put in train. In the first place, there are over 200 manufacturers of caravans in Britain at the present time whose products vary in size from under 13 ft. To 22 ft., and in weight from under 12 cwts To over two tons. Manifestly, therefore, unless a supply of prime movers of various sizes and h.p.s could be made available (a virtually insurmountable obstacle under present conditions of supply), it would be difficult to deal objectively with the various sizes of caravan with due regard to the capacity of car behind which a majority of motorists would desire to tow them.
Assuming (a) that most readers of "The Motor" were primarily motorists, and a caravan would rate as no more than an adjunct to their normal driving, and ( b ) that, according to S.M.M.T. statistics, a majority of motorists owned cars in the medium and lower h.p.s groups, it was decided that, generally, the caravans to be tested should be those of touring character and which come within the recommended towing capacity of cars of two litres and below. In practically its entirety, the British motor industry builds to accepted standards, with the result that a tester can take for granted a satisfactory standard of construction, even of the parts he cannot see. The same, unfortunately, cannot be said of the post-war caravan industry, although some serious efforts are now being made to remedy this state of affairs. Obviously, in the course of a test, it is not possible to undertake major dismantling operations in order to find out what lies hidden between the inner and outer panelling - a certain acceptable standard of construction must be assumed. Accordingly, it was decided that caravans which were to be the subject of "The Motor" tests must be products of concerns whose names appear on the acceptance lists of either the S.M.M.T. or the National Caravan Council, or on both. That there are makers of good caravans whose names, up to the present, appear on neither is well appreciated, but a line has to be drawn somewhere.
As prime mover for the tests a Triumph 1800 Roadster was chosen (a) because it was immediately available and (h) because a robust towing bracket could be fitted with comparative ease without any great structural alterations and in such a way that strain on the chassis during repeated acceleration and braking tests, particularly the latter, would be reduced to a minimum. As on a majority of post-war cars, the rear suspension was inclined to be soft for the job in hand so, in the interests of research if not of riding comfort, the rear springs were stiffened by the addition of further leaves and harder shock absorbers.
In order to obtain a firm basis for comparison as between one caravan and another, subject to the vagaries of the weather, a set route was planned, embracing practically all the sorts of road conditions likely to be encountered by the average caravanner, and including an ample stretch where detail tests can be carried out without inconvenience to other road users.
Set Conditions
The amount of time required for a caravan test involves many hours, which could only be expended during weekdays at the expense of other editorial matters. Consequently the greater part of the actual road work is done at week-ends. The general procedure is to leave London early on Saturday morning and cover the outward leg of the test circuit before lunch, by which time everyone is hungry. As a result, the ease or otherwise with which the cara van can be manoeuvred into posi tion, uncoupled, and made ready for cooking and living in assumes a high degree of importance. As the same kit of domestic hardware and personal equipment is always used and the same crew goes on each run, the standard of comparison in this regard is reasonably constant.
For the remainder of t he day, the caravan is just lived in so that, by the following morning, there are few details good or bad, that have not forced themselves to the attention of one or other member of the test crew, For example, in one particular case, the somewhat awkward location of a gas lamp was brought forcibly to the writer's attention when he wrecked both mantle and shade in straightening up in the course of his morning ablutions. In another case, the impossibility of opening a certain cupboard when the double bed was in use came to light during the preparation of early tea on the Sunday morning, the tea being stored in that particular cupboard and the bed occupied by two sleepy members of the crew awaiting refreshment.
On the second day, breakfast having been cooked, eaten and cleared away, and the beds restored to their d aytime positions, it is time to set out on the detail tests of com parative fuel consumption, acceleration from 0 to 30 m.p.h. and braking, the figures finally accepted for publication being the mean of several runs in opposite directions. During these tests, all personal and domestic kit is removed from the caravan so that the figures obtained are those obtainable with the caravan as delivered and complete with a loaded gas cylinder.
Lunch is, of necessity, a somewhat sketchy meal, following which kit is once more loaded and a start made on the return leg of the test circuit. It is on this section of the run that any variations in the caravan's road behaviour, consequent upon the somewhat rapid changes in speed during the acceleration and braking tests, are liable to be noticed.
Finally, the caravan is put on a weighbridge and the total weight and draw-bar download obtained, sketches and photographs are made and the test, generally, is complete.
Between February, 1950 and the time of writing, five caravans have been tested and the results published in "The Motor." Of these, four have been of the genuine touring variety with the Triumph as prime mover, and one of more ample proportions and weight which called for a towing vehicle of greater capacity.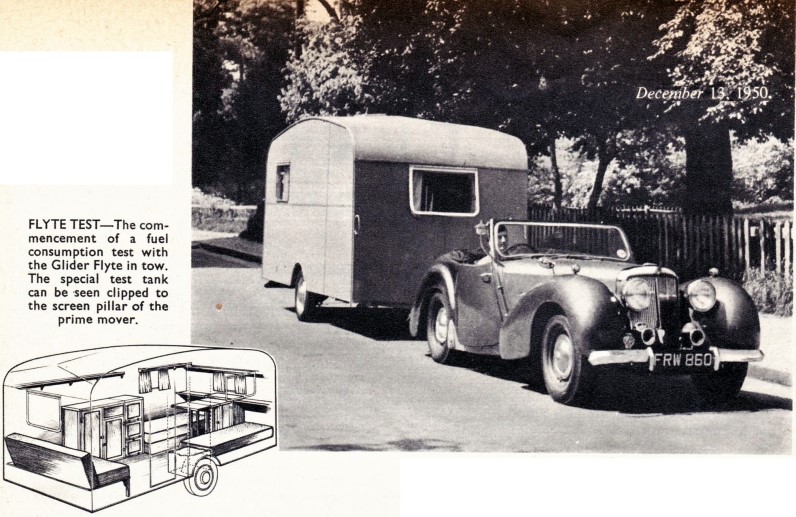 Effects on Car Performance
Roadworthiness and braking apart, a caravan has no measurable performance of its own, but it does have a very definite effect upon the performance of the prime mover. It is these results which will, undoubtedly, be of interest to the motorist and particularly to those who have consideration for running costs and performance. Taking the tests carried out behind the Triumph 1800 as a basis, some concrete figures which show the sort of effect on car performance which an average owner can expect, become available. The Roadster has an engine of 1,776 c.c. and the mean weight per 100 c.c. of the caravans tested amounts to 1.07 cwt slightly below the recommended maximum for all-round towing. Over 100 miles of detailed fuel consumption tests with a caravan in tow over normal roads have shown a mean increase of 17.8 per cent, compared with those taken with the car unencumbered, a figure which may be expected to increase on a tour where hill country predominates. As regards road performance, the legal maximum speed with a caravan in tow in this country is 30 mph so that, in any case, a majority of motorists will find their overall average speed drop. On the other hand, one has observed that most caravan towers maintain a speed as near the legal limit as possible wherever conditions permit. Setting aside the road gradients on, say, a 100-mile journey, the greatest noticeable effect of caravan drag is when starting away from traffic lights and other road hold-ups. Comparative acceleration figures from 0 to 30 mph taken during the tests show an average increase of 47.2 per cent, in the time taken to reach 30 m.p.h. with a caravan coupled up - in other words, nearly half as long again. The law demands that a two-wheeled trailer caravan exceeding 2 cwts unladen must be equipped with an efficient braking system operating on both wheels, which, unless the total unladen weight exceeds 45 cwts., may be operated automatically on the over-run as, in fact, is generally the case. While one agrees that two-wheeled braking of this type cannot generally be expected to show the same degree of efficiency as that on the four wheels of a modern car, one is concerned at the somewhat loose interpretation by caravan manufacturers of the word "efficient," the average efficiency shown during tests being as low as 52.3 per cent. Moreover, it is interesting to record that in no instance, even with the most violent crash braking, has it been found possible to lock the caravan wheels. Several suggestions can be put forward as to why this should be so - insufficient braking surfaces,, elasticity of brake coupling gear, insufficiently sensitive over-run mechanism; each or all may be a factor in the case. Whatever the reason, the interests of road safety alone demand far greater attention to this problem than has hitherto been paid.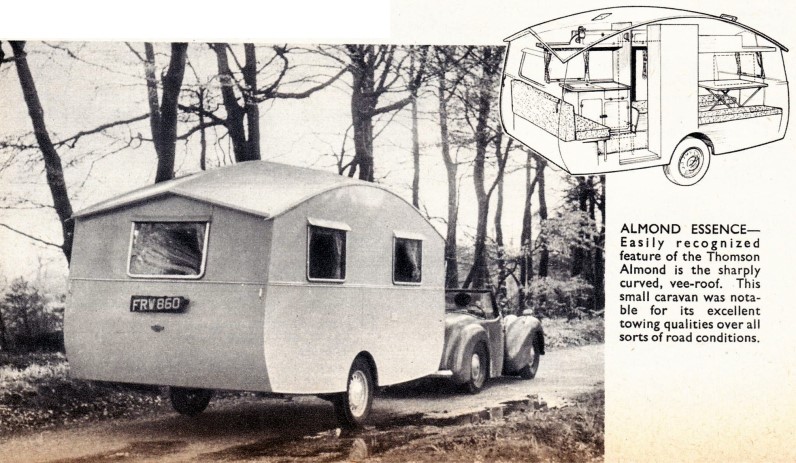 Internal Arrangements
Interior layout is a matter over which experienced caravanners will wrangle by the hour - some like things this way, others prefer them that. All the same, there is little scope for wide variation s within the confines of a tour ing caravan and, by the test crew; an open mind has been maintained. Points to which particular attention has been paid, however, are comf ort and size of the berths, con venience of cooking arrangements and the amount of cupboard space available. Each of these items has a direct bearing upon the others, particularly where the caravan is equipped with a centre kitchen unit. An extra couple of inches on the length of the unit may have a correspondingly ill effect upon the length or width of various berths, and it has been found, in at least one case, that spaciousness which called forth high praise from the female members of the party during culinary operations was a matter for execration when the party came to turn in. In another instance, in an endeavour to provide maximum floor space, the single berths had been so reduced in width that, when lying down, one's knees protruded well over the edge of the mattress. Generally speaking, though, a reasonable compromise is achieved.
As people living in small flats will know, the more restricted one's quarters, the greater the necessity for finding a proper place to put everything, otherwise a state of semi-chaos is quite quickly attained. The matter assumes even greater importance in a caravan, for, even if one proposes to spend only a week in it, there is a quantity of personal kit and bedding to be stowed, apart from food, hardware, etc., and, if one is touring rather than staying on a selected site for the period, the import ance of having plenty of cupboard room becomes paramount. On an average, in normal vans of between 13 and 15 ft. in length, the space has worked out at just over 57 cu. ft. which, generally, can be regarded as adequate; what can be done by adding an extra couple of feet to the length of a caravan, however, is shown in the case of the one example of this size tested, which, in addition to having a separate kitchen, possesses no fewer than 84 cu. ft. of built-in storage space. Cupboards are not cheap to make, however, and almost without exception in the caravans tested, size for size, the amount of cup board space is in very nearly direct ratio to the purchase price.
In this first year of testing the number of caravans which have passed through "The Motor's" hands has, of necessity, been limited; nevertheless, apart from cold facts and figures, certain overall conclusions have been formed. The first of these is that, among approved manufacturers, an acceptable standard of design, material and workmanship is being maintained. Secondly, and this is of particular importance to those who, as mentioned earlier in this review, regard a caravan as an adjunct to their motoring, there is a growing realization that it is not sufficient to merely build a small house on wheels and call it a touring caravan; it must be sufficiently well behaved on t he road to enable one to really do that thing.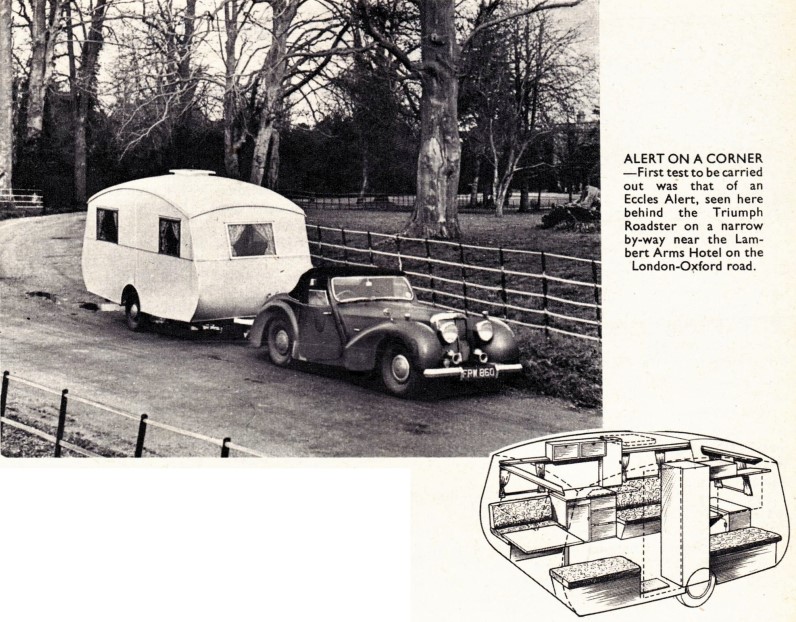 THE TESTS IN BRIEF
ECCLES ALERT FOUR-BERTH.
Principal dimensions: Overall length, 4ft.; width, 6 ft. 6 ins.; maximum internal height, 6 ft. 6 ins. Cupboard space: 69 cu. ft. Weights: Kerbside, 18 cwt.; at point of attachment, 252 lbs. Fuel consumption increase: 18.5 per cent. Retardation (0-30 m.p.h.): 44.2 per cent. Brakes: Not tested.
Road behaviour.
Generally good over all sorts of going. Some tendency to snatch on certain types of surface, such as badly laid by-roads.
General comment.
Very practical in layout and finish. Comfortable accommodation for four people. Berths arranged as two singles and one double with Dunlopillo mattresses. Centre kitchen. Location of gas plug and rear lamp extension plug underneath van inaccessible and in positions where they pick up mud from road wheels; they have been modified on 1951 models.
CAR TRAILERS' COUNTESS FOUR-BERTH.
Principal dimensions: Overall length. 14ft. 3 ins.; width, 6ft. 3 ins.; maximum internal height, 6ft. 3$ ins. Cupboard space: 55$ cu. ft. Weights; Kerbside, 20 cwt. 14 lbs.; at point of attachment, 168 lbs.
Fuel consumption increase: 17.6 per cent. Retardation (0-30 m.p.h.): 27.3 per cent. Brakes: 30 per cent.
Road behaviour.
Very careful attention to chassis construction and weight distribution resulted in this caravan being a very good "towee" with no noticeable bad manners up to well over the legal limit.
General comment.
The four-square layout of the Countess makes the most of the available internal space. The roof is of the lantern type with multiple vents and there is a sun flap at the rear end. Kitchen is central with metal facing for ease of cleaning. General finish is worthy of comment.
THOMSON ALMOND FOUR-BERTH.
Principal dimensions: Overall length, 13 ft. 4 ins.; width, 7ft.; maximum internal height, 6 ft. 4 ins. Cupboard space: 50 cu. ft. Weights: Kerbside, 17 cwt. 35 lbs.; at point of attachment. 147 lbs. Fuel consumption increase: 14.2 per cent. Retardation (0-30 m.p.h.): 44.2 per cent. Brakes: 50.6 per cent.
Road behaviour.
Light weight and compact build resulted in quite the best road behaviour yet encountered with a correspondingly small increase in fuel consumption on the prime mover.
General comment .
This being a true holiday touring caravan of modest dimensions, the internal arrangements are adequate and comfortable, but are not lavish. The pull-out double berth, set across one end of the van saves a lot of trouble when it comes to making up or dismantling sleeping quarters. The narrowness of single berths and the poor quality of the locker catches were points for criticism and have received attention on the 1951 model.
GLIDER FLYTE FOUR-BERTH.
Principal dimensions: Overall length. 15 ft. 3 - width. 6 ft. 7 ins.; maximum internal height, 6 ft. 5 ins. Cupboard space: 544 cu -Weights: Kerbside, 20 cwt. 63 lbs.: at point of attachment, 210 lbs.
Fuel consumption
increase: 20.9 per cent. Retardation (0-30 m.p.h.): 73.3 per cent. Brakes: 87 per cent.
Road behaviour.
Generally good, with no sign of breakaway up to maximum soes attainable behind the Triumph 1800; there was. however, a marked tendency the van to swing out around road islands and fairly sharp bends unless speed is very greatly reduced. Brakes were commendably good.
General comment.
A serious attempt to provide a little more room than usual a caravan costing less than £300 and built to acceptable standards. Internal layout simple but adequate, the berths comfortable and, in the case of the two sing of sensible dimensions. Points for criticism were the location of the number plate which reduces ground clearance at the rear extremity and the difficulty, uncertain conditions, of retracting the swinging jockey wheel.
BERKELEY COURIER DE LUXE FOUR-BERTH.
Principal dimensions: Overall length. 17 ft. 3 ins.; width, 7 ft. 2 ins.; maximum internal height, 6 ft. 8 ins. Cm-board space: 84 cu. ft. Weights: Kerbside. 27 4 cwt.: at point of attachment, 252 -z.
Fuel consumption increase: 62.5 per cent, (behind Vanguard Estate Wagon). Retention (0-30 m.p.h.): 93.2 per cent. Brakes: 43.6 per cent.
Road behaviour . Essentially a caravan for use on main and principal secondary r-ar Tows quite well on the straight-away up to 40 m.p.h., but exhibited a tendency : snake on easy down gradients and to swing wide on corners at quite normal speed.
General comment.
Accommodation in the Courier de Luxe may be consider luxurious from the touring point of view and comfortably adequate for semi –permanent living quarters. Feature is the double bed which folds away into the when not in use. Cupboard space is generous and there is a separate wardrobe for each pair of occupants. The end kitchen has a full-sized cooker and the a separate toilet compartment.
The Motor 13 December 1950