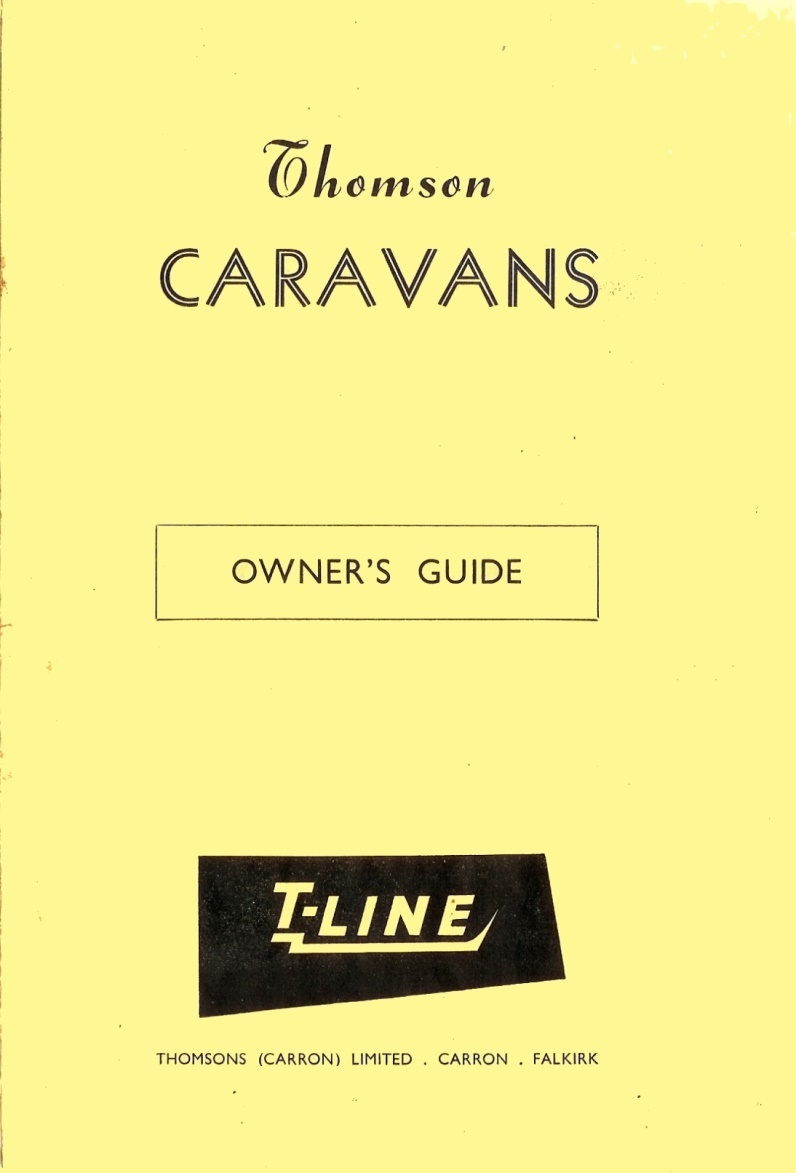 FOREWORD
A great deal of thought, effort and materials of excellent quality have been put into your Thomson caravan, and it is hoped that the information in this folder will enable you to obtain better service and more pleasure from your investment.
Thomson "T-LINE" caravans have the benefit of over 50 years' experience in their manufacture and, although there is very little required by specialised maintenance, it is thought that some hints will be useful.
The following is therefore offered for your information and interest.
CARAVAN SERIAL NUMBERS
The caravan serial number must be quoted in correspondence with dealers or the Factory. It appears stamped on a plate attached to THE SIDE of the chassis extension which forms the tow pole at the front of the caravan.
TYRE PRESSURES
Care should be taken to maintain the pressure at the following levels:
| | | |
| --- | --- | --- |
| Model | Size | Pressure |
| Glen | 5.20 x 13 | 30 Ibs |
| Glendale | 5.20 X 15 | 32 Ibs |
| Glenelg | 5.20 X 15 | 32 Ibs |
| Glenalmond | 5.90 X 15 | 34 Ibs |
| Gleneagle | 6.70 x 15 | 34 Ibs |
| Glenrosa | 6.00 x 16 Truck | 45 Ibs |
The stability of your caravan can be seriously upset by incorrect pressures, and it may be found advantageous to increase the pressure in the rear tyres of your car by about 2-4 Ibs when towing.
TOWING COUPLING
Thomson caravans are equipped with BRADLEY DOUBLELOCK, B & B DELTA or B & B BETA couplings. These couplings embody various safety devices and will give trouble-free service with minimum attention. Greasing through the nipples provided should be done every 500 miles or three months, whichever is the sooner. Before setting out ENSURE that your coupling is correctly attached to the tow ball and that the safety lock has properly seated. Thomson "T-LINE " models are supplied with 50 mm. tow ball and couplings and the use of 50 mm. tow ball with 2" coupling MUST BE AVOIDED. The 50 mm. tow ball is so marked and the coupling has a similar mark cast into the casing.
WHEEL NUTS
Before any journey ensures chat wheel nuts are fully tight. This is especially important during the first 500 miles of the life of the caravan.
GREASING POINTS
Grease nipples are fitted to each end of the road springs - one at the forward end and two at the rear on the shackle plates. These should be attended to at 500 mile or three month intervals. GLEN models fitted with RUBERY OWEN torsion bar suspension require the same treatment, but the grease nipples are situated on the axle tube, two at each end facing down to the rear.
HUBS
After removal of the wheel embellisher, the greasing of the hubs should be carried out by removing the hub grease cap. This is the large cup which is screwed into the centre of the hub. 'In the case of the GLEN, the cup is pressed into position. The cup should be filled flush with its rim and replaced. This should be carried out at 500 mile or three-month intervals.
BRAKES
Thomson caravans are equipped with two types of brake - GIRLING or LOCKHEED - operated by cable through the towing coupling. Adjusters for the GIRLING system are square end nuts located at the top of the backplates above the axle. In the LOCKHEED system the adjusters are inside the drum, accessible through the holes in the face of the drum. In both cases the principle is similar, viz. :-
Secure the opposite wheel by chocks.
Release parking brake lever.
Raise wheel off ground.
Tighten adjuster in clockwise direction until wheel is locked.
Release adjuster until wheel revolves freely. A similar opera­ tion to the other wheel completes the adjustment.
NOTE: Due to " bedding down " of linings and cable, this operation is recommended after the first 250 miles travel.
OILING
Attention to any other working parts with light machine oil will improve their performance and preserve their condition, e.g.:
Rood Springs: A coating of penetrating oil at 500 miles. Corner Leg: Screw threads, joints and bearing surfaces.
Jockey wheel: Shaft and brackets. Door: Hinges and locks. Parking Brake Handle: Pivots and pawl. Brake Cable: Turnbuckle and pulley.
GAS SYSTEM
Is dealt with in a separate handbook issued by the butane gas distri­butors obtainable from your dealer. If a leakage is suspected, DO NOT seek it with a naked flame. Turn off the cylinder valve and seek assistance from a qualified dealer. Any discoloration of the gas fit­tings or adjacent panelling can usually be attributed to a wrong adjustment of the air control. Users therefore are recommended to have maximum air intake on all fittings.
ON THE MOVE
Remember! - the law places a maximum speed restriction on even the best balanced outfit. In some Continental countries much higher speeds are permitted and Thomson caravans are designed to take advantage of high-speed touring conditions. Tyre pressures are dealt with elsewhere, but at sustained high speed the pressure may build up and care should be exercised to ensure maximum pressure is not exceeded in particularly warm conditions. The balance of the caravan should always be heavy to the tow pole and, as a general rule, the nose weight should be not less than 3/4 cwt. for GLEN and GLENDALE, nor less than I cwt. for larger models.
When on the move, remember the increased length and width of your outfit use a wing mirror on EACH SIDE and allow following traffic to overtake whenever it is safe to do so.
ON THE SITE
CORNER LEGS operated by wheel brace are fitted to all Thomson caravans and these are designed to stabilise the caravan. They are not intended to be used to lift the caravan and, if it is necessary to lift the caravan, a separate screw jack should be used under the road spring close to and behind the axle. Use the telescopic jockey wheel to lift the coupling clear of the tow ball and, thereafter, to level the caravan. Wind the corner legs down until all are in light contact with the ground then a further full turn of the brace should give the required pressure. If the surface is loose or soft, a 2"-3" thickness of hardwood below the feet of the legs will be useful.
Before moving off - and remember it will be easier to move downhill so park accordingly - ensure:
All loose equipment is securely stowed. (Remember the table and toilet.)
All cupboard and locker doors are closed.
LAYING-UP
It will be appreciated that the owner's interest will be best served if his caravan is stored under cover if not in service during the winter. Dry covered space with fresh air circulation is best but, if this is not possible, DO NOT COVER the body of the caravan with a sheet or envelope as dampness may then be trapped inside.
During storage, it is desirable to remove the upholstery and furnish­ ings and store these in a dry atmosphere. Sink and cooker should be thoroughly cleaned and all foodstuffs and perishables removed from storage lockers.
In extreme cold, the contents of the gas cylinder and pipes may freeze and, in any case, the control tap should be closed.
A light application of petroleum jelly or grease will preserve the bright metal work outside, and the coupling/jockey wheel assembly should be greased and covered to exclude dust and rain.
The tyres must be protected from direct sunlight and pressures maintained as recommended - if it is not possible to take the weight of the caravan off the tyres - leave parking brake "OFF".
Every opportunity should be taken to "air" the interior in suitable weather.
In your own interest, please remember that the industry usually faces its busiest period immediately prior to the opening of the season, e.g. early MARCH. Any servicing should be arranged well in advance and preferably during months of October-January.
For your convenience when on tour the names and addresses of our Distributors are listed below. They will be pleased to have the oppor­ tunity to be of service, especially in cases of emergency.
Aberdeen Car Mart Ltd, 92 Crown Street, ABERDEEN.
Colin's Caravans of Berkshire Ltd. Bath Road, ALDERMASTON, Berks.
Yorkshire Caravans of Bawtry Ltd. Great North Road, BAWTRY, Nr. Doncaster.
Border Caravans, Moorville, CARLISLE.
Lakeside Caravan Co. Ltd., Latton, CRICKLADE, Wilts.
Thomson Caravans Ltd., GroathiM Road South, Craigleith, EDINBURGH, 4.
Balgownie Caravans, Nairn Road, FORRES, Morayshire.
Thomson Caravans Ltd., 1565 Cumbernauld Road, Millerston, GLASGOW.
Burlingham Caravans, Garstang By-Pass, GAKSTANG, Lanes.
Maidstone Caravan Co. Ltd., HARRIETSHAM, Kent.
Cara-Cars Ltd., 1LKLEY, Yorshire.
Greig's Caravan Sales & Service, 12 High Street, Clachnaharrx, INVERNESS.
Rodger Fish & Son Ltd., Horse Market, KELSO.
Times Caravans Ltd., Stanford-on-Soar, LOUGHBOROUGH, Leics.
Roadside Caravan Co. Ltd., Dollingstown, LURGAN, Northern Ireland.
L. R. 1 Rowland Ltd., Longlands Caravan Centre, Longlands Corner, MIDDLESBROUGH.
Wood & Storey, Central Garage, Foresthall, NEWCASTLE UPON TYNE.
Crabtree Caravans Ltd., Chester Road, Oakmere, Nr. NORTHWICH, Cheshire.
Perthshire Caravan Co., Middlebank, Errol, PERTH.
Hants & Dorset Caravan Service Ltd. London Road (A3), Purbrook, PORTSMOUTH.
Gaitey Caravan Co. Ltd., Galley, Nr. STAFFORD..
Venture Caravans, 27 Court Parade, East Lane, WEMBLEY, Middlesex.
Ets. Idagra, Sprl., Autostrade, Wettern, BELGIUM.
Campi Import, Fredericiavej 44, Vejle, DENMARK.
F. de Witte, Esq., Caravan Import, julianalaan 257, Bilthoven, HOLLAND.
Brodrene Wigand, Lars Hilles Gate 26, Postboks 1212. Bergen, NORWAY.
O. B. Witk & Sonnet', Drammensvein I 14, Oslo, NORWAY.
Caravan i Karlstad AB, Lignellsgatan 9, Karlstad, SWEDEN.
Airsport, Les Pierrettes, St. Sulpice, Lausanne, SWITZERLAND.
VINTAGE CHART
1946-47
17'6' Kelvin, 14' 6" Endrick.
1948-49
17' 6' Kelvin Scar. 13' Avon, 8' 6" Swift.
1950
18' Deveron, 13' 6" Almond, 8'6" Dart.
1951-52
22' Braemar, 17' 6" Clyde, 14' Almond, 10' 6" Carron.
1953
22' Solway, 17' 6" Annan, 14' Almond, 10' 6" Carron.
1954-55
22' Solway 14' Almond.
1956
22' Solway, 16' Forth, 14' 6" Almond V and VII, I I' 6" Leven.
1957-58
22' Solway, 22' Glendevon, 16' Gleneagle, 14' 6" Glen- almond, I T 6" Glendale.
1959
18' 6" Glenrosa, 16' 6" Gleneagle, Glenalmond III and IV, Glendale, Glen 10'.
I960
30' Great Glen, Glenrosa, Gleneagle, Glenalmond 111 and IV. Glendale, Glen.
1961
30' Great Glen, Glenrosa, Gleneagle, Glenalmond, Glendale, Glen.
1962
Glenrosa, Gleneagle, Glenalmond I 5', Glendale Two and Four, Glen.
1963
"T-LINE" range .
3m 10/62
Download in PDF Format
Original supplied by Graham Collins.