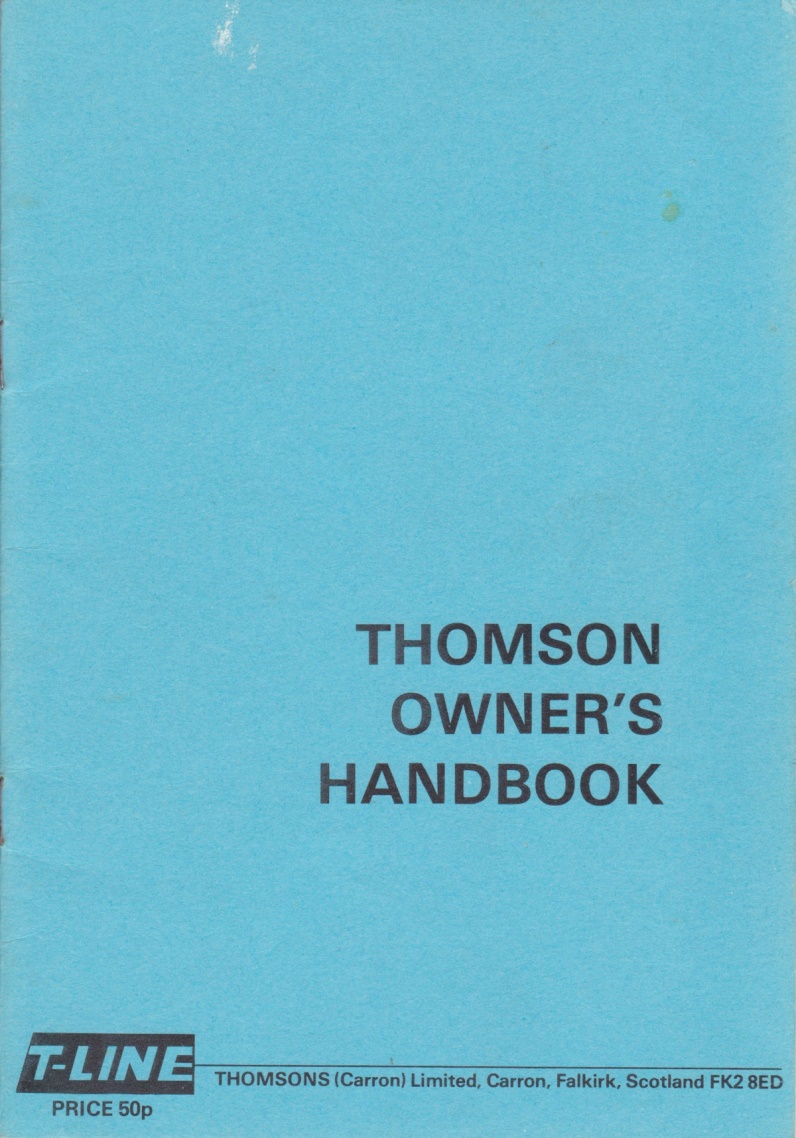 T-LINE VINTAGE CHART
1946-47
17'6" Kelvin, 14'6" Endrick.
1948-49
17' 6" Kelvin Star, 13' Avon, 8' 6" Swift.
1950
18' Deveron, 13' 6" Almond, 8' 6" Dart.
1951-52
22' Braemar, 17' 6" Clyde, 14' Almond, 10'6"Carron.
1953
22' Solway, 17' 6" Annan, 14' Almond, 10' 6" Carron.
1954-55
22' Solway, 14' Almond.
1956
22' Solway, 16' Forth, 14' 6" Almond V and VII, 11'6"Leven.
1957-58
22' Solway, 22' Glendevon, 16' Gleneagle, 14' 6" Glenalmond, 11' 6" Glendale.
1959
18' 6" Glenrosa, 16' 6" Gleneagle, Glenalmond III and IV, Glendale, Glen 10'.
1960
30' Great Glen, Glenrosa, Gleneagle, Glenalmond III and IV, Glendale, Glen.
1961
30' Great Glen, Glenrosa, Gleneagle, Glenalmond, Glendale, Glen.
1962
Glenrosa, Gleneagle, Glenalmond V and VII, Glendale 2 berth and 4 berth, Glen.
1963
T-Line range: Glenrosa, Gleneagle, Glenalmond VIII, Glendale 2 berth and 4 berth, Glen.
1964
Gleneagle, Glenalmond, Glenelg, Glendale 2 berth and 4 berth, Glen.
1965
T-Line range as in previous year.
1966
T-Line range: Gleneagle, Glenmore, Glenalmond, Glenelg, Glennevis, Glendale 2berth, Glen.
1967
T-Line range as in previous year.
1968
T-Line range plus Glengarry and Mini Glen 2 berth and 4 berth.
1969
T-Line range: Mini Glen 2 berth, Glen, Glendale, Glennevis, Glenelg, Glenalmond? (replacing Glengarry), Glenmore, Gleneagle.
1970
T-Line range as in previous year plus Glen 2 berth.
1971
T-Line range of 9 models.
1972
T-Line range of 9 models.
1973
T-Line range of 9 models plus Clansman.
1974
T-Line range of 10 models.
1975
T-Line range of 9 models plus Glennevis and Glenelg 'J' types and Glenbervie.
1976
Clan range- Clan 1000, Clan 1200, Clan 1600. Glen range Rivers range - Tay, Avon, Forth, Kelvin.
1977
Clan range - Clan 1000, 1200, 1400, 1600. Glen range excluding Glen 4 berth.
1978
Clan range continued. Glen range continued with addition of GL specification.
1979
Glen range of 7 models continued in GL and S specification.
DIMENSIONS AND WEIGHTS OF MODELS PRIOR TO 1976 SEASON
Mini-Glen

Glen
2-Berth

Glen
4-Berth

Glendale
2-Berth

Glennevis

Overall (shipping) Length (including drawbar)

12' 5"
3785 mm

14'
4265mm

14'
4265 mm

16' 3"
4950mm

16' 3"
4950mm

Body Length

9'7"
2920mm

10' 9"
3275 mm

W 9"
3275mm

12' 8"
3860mm

12' 8"
3860mm

Body Width

6' 5"
1956mm

6' 6"
1981 mm

6' 6"
1981 mm

6' 9"
2057mm

6'9"
2057mm

Body Height

7' 7"
2310mm

78"
2340mm

T 8"
2340mm

7' 10"
2390mm

7' 10"
2390mm

Delivered Weight (Tolerances 3%)

9 1/4 cwt. 470kg.

10 1/2cwt.
530kg.

10 1/4 cwt. 520kg.

12 1/2 cwt.
635kg.

12 1/2 cwt.
635kg.

Maximum authorised gross weight

12 cwt. 610kg.

13 1/2 cwt.
685kg.

13 1/2 cwt. 685kg.

16 1/4 cwt.
825kg.

16 1/4 cwt.
825kg.

Original tyre size

5.20 x 13

5.20 x 13

5.20 x 13

5.90 x 13

5.90 x 13

Glenelg

Clansman
2-Berth

Glenalmond

Glenmore

Gleneagle

Overall (shipping) Length (including drawbar)

17' 3" 5260mm

17' 3"
5260mm

19'
5790mm

19'
5790mm

20- 9"
6325mm

Body Length

13' 9"
4190mm

13' 9"
4190mm

15' 7"
4750mm

15' 7"
4750mm

17' 4"
5285mm

Body Width

6' 9"
2057 mm

6' 9"
2057mm

6'9"
2057 mm

6' 9"
2057mm

7' 3"
2210mm

Body Height

7-11"
2410 mm

7' 11"
2410mm

8'1"
2464mm

8'1"
2464mm

8'1"
2464mm

Delivered Weight (Tolerances 3%)

12 3/4 cwt. 650kg.

15 1/2 cwt.
780kg.

14 3/4 cwt. 750kg.

14 3/4 cwt.
750kg.

18 cwt.
915kg.

Maximum authorised gross weight

16 3/4 cwt. 850kg.

20 cwt.
1015kg.

20 1/4 cwt. 1030kg.

20 1/4 cwt. 1030kg.

23 cwt.
1170kg.

Original tyre sizes

5.90 x 13

6.40 x 13 (6 ply)

6.40 x 15

6.40 x 15

6.40 x 15 (6ply)
(The dimensions of the 1975 Glenbervie are similar to the Glenelg.)
The 1979 models were introduced in September of the previous year and comprise 7 models in the Glen series available in 'GL' or 'S' specification. The dimensions of both series are similar although the superior specification of the 'GL' models imposes a small weight penalty. The Clan range was not produced for the 1979 season.
1976 SEASON
THE RIVER SERIES
This range introduced completely new styling by Thomson's based on the "wedge" theme embodying the layout of 3 of the established 4-berth T-Line models viz: -
| | |
| --- | --- |
| TAY | 4/5 berth (layout of Glennevis) |
| AVON | 4/5 berth (layout of Glenelg) |
| FORTH | 4/5 berth |
| KELVIN | 4/6 berth (layout of Gleneagle) |
The dimensions of the RIVER series are: -
| | | | | |
| --- | --- | --- | --- | --- |
| | TAY | AVON | FORTH | KELVIN |
| Overall length | 15'8" | 16'8" | 18'4" | 20'3" |
| Body length | 12'3" | 13'3" | 15'1" | 16'10" |
| Width | 6'9" | 6'9" | 6'9" | 7'3" |
| Height | 7'9" | 7 9" | 7'9" | 7 11" |
| Tyre size | 5.90x13x4ply | 5.90xl3x4ply | 6.40x-13x 6ply | 6.40x15x6ply |
| Max. Gross Wt. | 17cwts | 17'/2 cwts | 20cwts | 23cwts |
| Delivered Wt. +- 3% | 13cwts | 13 3 /4 cwts | 16cwts | 18'/i cwts |
Also introduced for the 1976 season: -
The CLAN Range comprising: -
| | |
| --- | --- |
| Clan 1000 | (10'5" x 4berth) |
| Clan 1200 | (12'5" x 4 berth) |
| Clan 1500 | (15'2" x 4 berth) |
The dimensions of the CLAN 1000 and CLAN 1200 are similar to those of the GLEN 4 and GLENNEVIS referred to herein. The CLAN 1500 is fitted with 6.40x13x4 ply tyre equipment which confers a maximum gross weight factor of 191/2 cwts (990 kg.).
1977 SEASON
The CLAN range was supplemented by the 1600 model, and the 1500 replaced by the 1400 model, the dimensions of which are:-
| | | |
| --- | --- | --- |
| | CLAN 1400 | CLAN 1600 |
| Overall length | 18' | 20'3" |
| Body length | 14' 10" | 17' |
| Body width | 6' 9" | 6' 9" |
| Body height | 7' 10" | 8' |
| Max. Gross Wt. | 17 1/2cwts | 20 1/4cwts |
| Tyre Size | 5.90x13x4 ply | 6.40x13x6 ply |
Modifications to layout and amendments to specification were embodied in the Glen series viz: -
The 4 berth GLEN was withdrawn and the layout of MINI-GLEN and GLEN 2 berth altered to provide kitchen facility at the rear. In the GLENNEVIS and GLENALMOND models the doorway position was moved forward of the axle line thus permitting larger toilet compartments. The doorway of the GLENEAGLE was altered and brought forward to provide larger toilet space and improved rear and kitchen arrangement. The mid- range GLENELG continued unchanged in layout.
Consequent upon these alterations, some technical details were revised as follows: -
| | | | |
| --- | --- | --- | --- |
| | Mini-Glen | Glen | Glennevis |
| Overall length | 12' 7" | 13' 10" | 16' 0" |
| Body length | 9' 8" | 10' 11" | 12' 10" |
| Delivered weight | 9 1/2 cwts | 11 cwts | 12 1/2 cwts |
| Max. gross wt. | 13 3/4 cwts | 15 1/2 cwts | 17 1/2 cwts |
| Tyre size | 520x13x4ply | 560x13x4ply | 590x13x4ply |
| | Glenelg | Glenalmond | Gleneagle |
| Overall length | 17'0" | 18' 10" | 20' 9" |
| Body length | 13' 11" | 15'9" | 17' 7" |
| Delivered weight | 13cwts | 15cwts | 18 1/2 cwts |
| Max. gross wt. | 19 cwts | 20 1/4 cwts | 24 1/2 cwts |
| Tyre size | 640x13x4ply | 640x13x6ply | 15 x 6 ply |
Serial number plate located at edge of doorway.
1978 SEASON
Following changes to specification introduced in September 1977, the following data applies: -
Overall Length

Body Length

Body Width
Height

Delivered Weight
(cwts}

CLAN 1000

13' 8"

10' 5"

6' 11"

7'9"

10%

CLAN 1200

15' 7"

12'5"

6' 11"

T 10"

12

CLAN 1400

18'0"

14' 8"

6' 11"

7' 10"

13%

CLAN 1600

20' 3"

17'0"

6' 11"

8'0"

16

MINI-GLEN

12' 9"

9'8"

6' 11"

7'6"

1014

GLEN 2

14' 0"

10' 10"

6' 11 "

7' 10"

12

GLENDALE

16'0"

12' 10"

6' 11"

7' 11"

13%

GLENNEVIS

16' 0"

12' 10"

6' 11"

7' 11"

13%

GLENELG

18' 4"

" 15' 1"

6' 11"

7'ir

1414

GLENALMOND

18' 9"

15' 7"

6' 11"

7' IT-

16

GLENEAGLE

20' 9"

17' 6"

7'3"

S' 1"

19
Max. Gross Weight (cwts}
Tyre Size
Tyre Pressures
Rec Nose Weight
(lbs)

CLAN 1000

15 3/4

155SR13
31 PSI

80 - 100

CLAN 1200

17 1/4

155SR13
31 PSI

110 - 140

CLAN 1400

20 1/4

155SR13I (R)
39 PSI

110 - 140

CLAN 1600

21 1/4

185SR13
33 PSI

120 - 150

MINI-GLEN

13 3/4

155SR13
31 PSI

80 - 90

GLEN 2

15 3/4

155SR13
31 PSI

80 - 90

GLENDALE

17 1/4

155SR13
31 PSI

110 - 140

GLENNEVIS

17 1/4

155SR13
31 PSI

100 - 120

GLENELG

19 1/2

1555R13 (R)
39 PSI

100 - 120

GLENALMOND

21 1/2

185SR13
33 PSI

125 - 150

GLENEAGLE

25

185SR14 (R)
42 PSI

150 - 180
1978 and later models are equipped with radial ply tyres and it is important to maintain pressure as above recommended.
Safety glass glazing of windows is mandatory from late 1977 on all new caravans. All THOMSON caravans for the 1978 season are so fitted.
Also introduced for 1978 on all GLEN series except the MINI-GLEN, is a larger gas cylinder storage chest which will accommodate the 7kg lightweight and many European type gas cylinders.
INTRODUCTION
A great deal of thought, effort and materials of excellent quality have gone into the construction of your T-Line caravan and it is hoped that the information contained in this booklet will assist you to obtain the best service and greatest enjoyment from your investment. It is produced for the benefit of all Thomson Owners and since there is models 20 years, or even older, still in service, information on these has been included. Thomson T-Line caravans have the benefit of over 70 years' experience in their manufacture and although there is very little specialised maintenance required it is thought that some hints will be useful. However, you should not hesitate to contact the dealer from whom you purchased your caravan if additional service is required. He is your link with the manufacturers.
The Owner's Guide is supplied free of charge to every buyer of a new T-Line caravan and contains much useful information. Further copies are available on repayment.
MANUFACTURER'S WARRANTY
The dealer from whom you purchased your T-Line caravan will draw your attention to the application card which is supplied with the caravan. He, or you, should complete this card and return it to the manufacturers within seven days of purchase so that your ownership can be registered. Please be sure that the correct serial number of your caravan is quoted on the card.
CARAVAN SERIAL NUMBER
The caravan serial number must be quoted in all correspondence with dealers or with manufacturers. It appears stamped on a metal plate attached to the side of the chassis extension which forms the towpole at the front of the caravan but on later models on a plate attached to the side of the vehicle adjacent to the doorway. The serial number must not be confused with the chassis number which refers only to the chassis equipment and not to the complete caravan. Since 1966 the first two digits indicate the year of manufacture, e.g. "66" for 1966, "67" for 1967 and so on. The production year runs from September to August thus a serial number, for example, 70GG.... followed by one, two or three digits will represent a Glenelg model of 1970 vintage produced during the period September, 1969 to August, 1970. Nevertheless, it would be recognised as a 1970 model. Serial numbers which do not first incorporate two digits suggest the model to be from production prior to 1966 and such caravans can be identified only by reference to the Manufacturer.
To comply with the requirements of BS 4626, 1970, it is necessary to state the following. The model can be identified by the name strips attached to the body panels and from the serial number plate as described above. The letters MG are used to identify the Mini Glen, G Glen, GD Glendale, GN Glennevis, GG Glenelg, GA Glenalmond, GM Glenmore, GE Gleneagle. The identification letter for the Clansman is C and for the Clan series, the letter C followed by two digits to define the model.
TYRE PRESSURES
The stability of your caravan can be seriously upset by incorrect pressures and it may be found advantageous to increase the pressure in the rear tyres of your car by about 2 -4 lb/in 2 (0.14 -0.28 kg/cm 2 ) when towing.
Care should be taken to maintain the pressure as follows:
All models with crossply tyres (up to and including 1977 season) 30 lbs/in 2 (2.1 kg/cm 2 ) apart from Gleneagle which should be 36 lbs/in 2 (2.5 kg/cm 2).
See following schedule for radial ply tyre pressures (1978 models onwards).
WHEEL NUTS
Before any journey ensure that all wheel nuts are fully tight. Torque setting 60 feet/lbs. This is especially important during the first 500 miles (800 km) of the life of the caravan.
TOWING COUPLING
Current T-Line caravans are fitted with B. & B. Couplings suitable for use with a 50 mm tow ball. Earlier models, however, were equipped with 2" couplings and the use of these with a 50 mm ball must be avoided. The modern towball is marked "50 mm" and the coupling has a similar mark cast into the casing. These couplings embody various safety devices and will give troublefree service with minimum attention. Greasing should be done in accordance with the chassis maintenance leaflet supplied with your caravan. Before setting out on a journey ensure that the coupling is correctly attached to the towball and that the safety lock on the coupling head is properly seated.
SERVICE AND MAINTENANCE INSTRUCTIONS FOR B. & B. CHASSIS FITTED WITH SIGMA MARK ll/lll 'BACK-UP' BRAKING SYSTEM AND B. & B. SUSPENSION EQUIPMENT
GENERAL INFORMATION
Autolock Socket Head
The "Autolock" ball socket head is entirely automatic in operation and has been designed to suit the 50 mm International Standard Ball recommended by the British Standards Institute, National Caravan Council and the Society of Motor Manufacturers and Traders.
Coupling Up
Having depressed the safety catch on the side of the socket head, press the coupling down on to the ball. This action will lift the main locking plunger which, when the head is firmly on the ball, will return to the fully down position. The spring loaded safety catch on the side of the coupling head also indicates whether the main plunger is right down to the fully locked position. If the clip does not automatically engage under the lug it means that foreign matter has found its way into the ball housing. It is imperative that the coupling head locking handle is in the full down position before commencing to tow.
Uncoupling
Having pressed the safety catch, lift the handle on the coupling head and "roll" the socket head so that the bottom of the coupling head makes contact with the stem of the ball and acts as a simple lever. If a telescopic jockey wheel is fitted, having pulled the coupling handle up, wind the jockey wheel down. This action will lift the socket head clear of the ball.
Reversing
The B. & B. SIGMA 'Back-Up' braking system eliminates the need for a lock out device or clip when reversing.
PARKING-HANDBRAKE APPLICATION
The SIGMA 'Back-Up' system is designed to permit easy reversing of the caravan without any special action on the part of the driver to negate the operation of the braking system. This system, however, requires that, when parking, the handbrake is correctly applied, particularly when parking on a reverse slope. Under most normal conditions the hand-brake should be applied with a hand load of not less than 40 kp. If parked on a reverse slope the following procedure will assist in the application of the handbrake and ensure that the caravan is safely parked. Apply the handbrake with a force which will just allow the caravan to roll in a controlled manner. As the caravan rolls, a "click" from each brake may be heard, confirming that the shoes have moved into the reverse position, further apply the handbrake until the caravan is firmly held, by the handbrake, against the effect of the gradient. Check security of the caravan before leaving, lit should be noted that it is good common practice to chock the wheels of the caravan when parking on steep slopes, or under adverse conditions such as loose or slippery surfaces.)
Jacking
Under no circumstances must the corner steadies be used to jack up the unit. If it is necessary to jack up, use a bottle or scissor type jack, placing the head on the suspension arm and as near to the spring as possible.
Tyre Maintenance
In order to equalise tyre wear, it is suggested that the wheels be balanced and changed round from time to time. Always use a "Spider" when tightening wheel nuts to our recommended torque of 60 Ibs/feet. Recommended tyre pressures are as follows:
Cross Ply: 4 ply rating 30 psi Radial: 155SR-13 33 psi (2.3 Bart
6 ply rating 36 psi 155SR- 1 3 Reinforced 39 psi (2.7 Bar)
185SR-13 35 psi (2.4 Bar)
175SR-13 35 psi (2.4 Bar)
185SR-14 Reinforced 42psi (2.9 Bar)
ADJUSTMENT-BRAKING SYSTEM
Adjustment should be carried out in the following manner: FIRSTLY ADJUST THE BRAKES THEMSELVES AND SECONDLY THE COUPLING.
Axle Equipment - Adjustment 'Back-Up' Brakes
Jack up axle, raising wheel clear of ground, and spin wheel in
forward direction.
Remove road wheel.
IMPORTANT: DURING BRAKE/HUB ADJUSTMENT, THE
DRUM MUST ONLY BE REVOLVED IN A FORWARD
DIRECTION.
Revolve brake drum until adjustment hole is in line with
slot-headed adjustment screw. Then with a screwdriver rotate the
adjustment screw in a clock-wise direction as far as it will go and
then return it three "clicks" ensuring at the same time that the
brake drum revolves freely.
This brake is then correctly adjusted.
Replace road wheel, making sure to correctly tighten wheel nuts.
Carry out similar procedure on opposite wheel.
Coupling Equipment - Adjustment SIGMA MARK II (Hydraulic) Coupling
Having adjusted the brakes, the draw-shaft of the coupling should be fully extended, i.e. in the towing position. All the slack should now be taken out of the brake rods by adjusting the nuts on the rod at the lower fork on the SIGMA coupling, such that the overrun lever is just resting on to the handbrake lever with the handbrake in the fully "off" position. This automatically allows 13 mm of free movement of the draw shaft. Extreme care must be taken not to over-adjust the brake rods on to the handbrake lever; otherwise the 'Back-Up' action of the brake will be affected.
GENERAL NOTES ON MAINTENANCE
Independent Suspension System
The suspension system is of the coil spring and hydraulic damper type designed and developed by the Technical Department of B.& B. Trailers Limited, to suit all types of road conditions, and for easy maintenance only the hubs and brakes will require attention. The swinging arm assembly is mounted in nylon bushes which will not require further lubrication. The hydraulic dampers are of the sealed non-adjustable type, and will not require attention.
The springs and dampers have been selected to suit the unladen weight of the caravan, plus an additional amount for personal effects.
Lubrication - Brake Drum/Hub Assembly
The brake hubs are packed with grease to the correct level before leaving our works and should be repacked at approximately 3,000 mile intervals. To remove the "press-in" retaining cap, tap lightly round the periphery.
NOTE - It is as important not to overpack the hubs with grease as it is to allow the bearings to run dry.
Lubrication - SIGMA MARK II Coupling
It is most important that regular attention is given to the two grease nipples serving the coupling shaft bearings and the grease nipple on the overrun lever. The coupling plunger housing is packed with grease on assembly, but will require periodic oiling. The brake lever fulcrum and spring loaded ratchet should be oiled regularly. Grease should also be applied to the surface of the handbrake that is in contact with the overrun lever.
Lubrication - Telescopic Jockey Wheel
The operating mechanism is packed with grease on assembly. Subsequent oiling is to be made through the small hole in the operating handle. The wheel itself should be oiled from time to time.
Lubrication - Corner Steadies
The screw, nut and linkage points should be lubricated from time to time.
Lubrication - Brake Linkage
All moving parts should be lubricated periodically to ensure satisfactory operation.
LUBRICATION - TORSION BAR SUSPENSION
Earlier T-Line caravans were equipped with Rubery Owen chassis equipment which featured a torsion bar suspension system. Lubrication of the torsion bars should be carried out at approximately 1,000 miles (1600 km) intervals through two grease nipples situated on the axle tube at each side facing downwards on the rear of the tube.
OILING
Attention to any other working parts with a light machine oil will improve their performance and preserve their condition, e.g.:
Leaf Springs (if fitted}: A coating of penetrating oil at 1,000 (1600 km) miles.
Corner Leg: Screw threads, joints and bearing surfaces.
Jockey Wheel: Shaft and brackets.
Door: Hinges and locks.
Parking Brake Handle: Pivots and pawl.
Brake Cable (if fitted): Turnbuckle and pulley.
Brake Rod Linkage: All moving joints.
BRAKES
T-Line caravans are equipped with two types of brake - GIRLING or LOCKHEED - operated by cable or rod through the towing coupling. Adjusters for the Girling system are square-ended nuts located at the top of the back plates above the axle. In the Lockheed system the adjusters are inside the drum and are accessible through holes in the face of the drum. In both cases the method of adjustment is similar, viz:
Secure the opposite wheel by chocks.
Release the parking brake lever.
Raise wheel off ground.
Tighten adjuster in clock-wise direction until wheel is locked, then release adjuster until wheel revolves freely. A similar operation to the other wheel completes the adjustment.
NOTE - Due to 'bedding down' of linings and linkage, this operation is recommended after the first 500 miles (800 km) travel.
ELECTRICAL CONNECTOR
Every T-Line caravan is equipped with full road lighting and numberplate and a suitable electrical socket should be fitted to the towing vehicle. The wiring of the connector to the car should be done in accordance with the diagram supplied with this equipment thus full illumination by side and tail, stop and direction indicator lights and power to interior auxiliaries is available.
ELECTRICAL SYSTEM
When refrigerator is installed an additional supply connection (12v x 8 amp rating) for the exclusive use of the unit is required between caravan and towing vehicle and power from the car battery should not be used for the refrigerator unless the car engine is running. Further information and detailed operating instructions are described in the literature supplied with the unit.
T-Line Caravans are wired for negative earthed system and your local auto-electrical specialist should be consulted if the towing vehicle has positive earth system.
GAS SYSTEM
This is dealt with in a separate leaflet issued by the butane gas distributors which is obtainable from your dealer. If a leakage is suspected DO NOT seek it with a naked flame. Turn off the cylinder valve and seek assistance from a qualified gas fitter. Any discolouration of the gas fittings or adjacent panelling can usually be attributed to an incorrect adjustment of the air control. Users therefore are recommended to have maximum air intake on all fittings consistent with an acceptable noise level.
ON THE MOVE
Remember that the law places a maximum speed restriction on even the best balanced outfit but in some continental countries much higher speeds are permitted and T-Line caravans are designed to take advantage of high speed touring conditions. Tyre pressures are dealt with elsewhere but at sustained high speeds the pressures may build up and care should be exercised to ensure that maximum pressure is not exceeded in particularly warm conditions. The balance of the caravan should always be heavy to the front and, as a general rule, the nose weight should be not less than % cwt. (38 kg.) for models up to 13' (3.9 m) nor less than 1 cwt. (50.8 kg) for larger models. When on the move remember the increased length and width of your outfit - use wing mirrors on both sides of the car and allow following traffic to overtake whenever it is safe to do so.
ON THE SITE
Corner legs operated by the wheel brace are fitted to all T-Line caravans and these are designed to stabilise the caravan. They are NOT intended to lift the caravan and, if it is necessary to do so a separate jack should be used under the road spring, or drop arm, positioned close to and behind the axle.
Use the telescopic jockey wheel to lift the coupling clear of the tow ball and, thereafter, to level the caravan. Wind the corner legs down until they are in light contact with the ground, then a further full turn of the brace should give the required pressure. If the surface is loose or soft, a 2"-3" (5 - 8cm) thickness of hardwood below the feet of the legs will be useful. Before moving off - and remember it will be easier to move downhill, so park accordingly - ensure:
All loose equipment is securely stowed. (Remember the table and toilet.)
All cupboard and locker doors are closed.
The heavy equipment is stowed over the axle (see 'On the Move').
Gas cylinder control valve is "OFF".
Roof ventilators are closed and locked in position. With scissors- type stays the wing nuts should be tightened.
All windows closed and outer door locked.
Raise all corner legs.
Raise nose of caravan with telescopic jockey wheel above level of tow ball and reverse car below coupling.
Couple up, ensure safety lock in position and retract jockey wheel in its bracket. Fit safety chain around neck of tow ball or some other rigid structure on towing vehicle.
Release parking brake and check reversing lock 'off'.
Connect lights.
Anything left behind?
GENERAL MAINTENANCE
On models prior to the 1972 range the body work was finished with a synthetic hot lacquer. Since the 1972 range was introduced, the panelling is in pre-painted acrylic finish and it is essential that the metal work and roof be protected from the atmosphere. If any damage occurs to the paint surface, the metal then revealed should be coated as soon as possible and suitable material can be had on application to your dealer or to the manufacturers. The steel work of the chassis should be similarly treated and the life of the paintwork will vary according to atmospheric conditions, but with reasonable care can be expected to be seven to ten years. The owner is therefore recommended occasionally to clean and polish the caravan. A very mild solution of a branded detergent (e.g. "Teepol") in warm water is best for washing and fresh clean water should immediately be used to rinse off any dirt or solution which may remain. Harsh detergents or washing powders must not be used. Thereafter, a complete polish of the dried body­ work with a proprietary car polish will give a satisfactory result. T-Line caravans are equipped with windows having anodised aluminium frames and such windows carry an identification label when the caravan leaves the factory. Such window frames must not be cleaned with abrasives nor steel wool. Interior woodwork will respond to a domestic silicone base furniture polish and interior walls and ceiling to a light wash with warm soapy water.
VENTILATION
Fixed ventilation has been arranged in accordance with B.S. Specification 4626, (1970) and should not be altered. This permanent facility can be augmented as required by using windows and roof ventilators but it is essential to ventilate freely when gas appliances are in use. The double lined roof ventilators fitted to 1979 GL models may be left partially open by pushing upwards the slide buttons on the hand grips.
Condensation may also occur under mattresses or under drapes resting on or against a solid or relatively cold surface. However, it is not common to one caravan or another but is typical of the polyurethane foam interiors now almost universally installed in touring caravans, but the effects of the condensation can be minimised by inserting corrugated paper or a blanket between the underside of the mattress and the surface on which it lies. It will also be useful for the mattress to be used with the plain side uppermost at night time so that in day time any accumulated condensation will be dissipated into atmosphere when the mattress resumes its function as a seat cushion.
LOUVRED WINDOWS
These windows give draught-free ventilation when properly adjusted. However, during the life of the caravan, further adjustment may be required and this can be done quite simply. The operating lever is located on the right of the window and this lever is mounted on a control block which is attached to the frame by two screws. When these screws are loosened the control block will move upwards and downwards and this movement will increase or decrease the tension on the glass slats. When the desired tension has been obtained, the control block screws should be retightened. Care must be taken to ensure that excessive tension is not applied to the slats and, there­ fore, only a very slight adjustment of the control block will normally be required.
When cleaning acrylic double glazed windows use liberal quantities of warm water and avoid scratching the surface. If damaged in this way, the marks can be removed by application of an acrylic polish obtainable from most hardware or model shops. Alternatively a fine grade metal polish applied sparingly may be used.
Seelite windows are installed in GL models of 1979 and later vintage and these comprise a sealed unit with safety glass exterior and acrylic interior panel.
LAYING-UP
It will be appreciated that your interest will be best served if the caravan is stored under cover when not in service during the winter. Dry, covered space with fresh air circulation is best but, if this is not possible, NO NOT COVER the body of the caravan with a sheet or envelope as dampness may then be trapped inside. Avoid parking close to trees.
During storage, you should remove the upholstery and furnishings and store these in a dry atmosphere. The sink and cooker should be thoroughly cleaned and all foodstuffs and perishables removed.
A light application of petroleum jelly or grease will preserve the bright metal work outside, and the coupling/jockey wheel assembly should be greased and covered to exclude dust and rain.
The tyres must be protected from direct sunlight and if it is not possible to take the weight of the caravan off the tyres, the pressures should be maintained as recommended. Leave the parking brake "OFF."
Every opportunity should be taken to ventilate the caravan interior in suitable weather.
GENERAL SAFETY PRECAUTIONS
Heating appliances are to be completely extinguished before the caravan is moved and are not to be used when the caravan is in motion. Portable heaters should not be used.
Extinguishers containing vaporising liquids should not be used by a person inside the caravan or from outside whilst other persons are
in the caravan. Dry powder extinguishers will deal with fat or electrical fires. Water type extinguishers should not be used for this type of fire.
Additional safety precautions are noted on the instruction card provided by the CALOR GAS Organisation which is supplied with your caravan.
ELECTRICAL SUPPLY
(If your caravan is equipped for mains electric supply)
Before connecting the caravan installation to the mains supply, consult the notice at the supply outlet and be satisfied:

that the mains supply is suitable for your installation and appliances, i.e. whether it is ac. or dc. and whether it is at the correct voltage, and
that your installation will be properly earthed. Never accept a supply from a socket-outlet or plug having only two pins, or from a lighting outlet.
In case of doubt, consult the site owner or his agent.

MAKE SURE THAT THE SWITCH AT THE SITE SUPPLY POINT IS OFF.
Remove any cover from the electricity inlet provided on the caravan, and insert the connector of the supply flexible cable obtained from the site owner.
Remove any cover from the socket-outlet provided at the site supply point, and connect the plug at the other end of the supply flexible cable to this. Switch on the main switch at the site supply point.
IN CASE OF DIFFICULTY CONSULT AN APPROVED ELECTRICAL INSTALLATION CONTRACTOR (WHO MAY BE THE LOCAL ELECTRICITY BOARD). IT IS DANGEROUS TO ATTEMPT MODIFICATIONS AND ADDITIONS YOURSELF. LAMPHOLDER-PLUGS (BAYONET-CAP ADAPTORS) SHOULD NOT IN ANY CIRCUMSTANCES BE USED.
On leaving Caravan Site
5. Reverse the procedure described in Paragraphs 3 and 4 above.
IT IS IMPORTANT THAT THE MAIN SWITCH AT THE SITE SUPPLY POINT SHOULD BE SWITCHED OFF, THE SUPPLY FLEXIBLE CABLE DISCONNECTED, AND ANY COVER REPLACED ON THE SOCKET- OUTLET AT THE SITE SUPPLY POINT. IT IS DANGEROUS TO LEAVE THE SUPPLY SOCKET OR SUPPLY FLEXIBLE CABLE LIVE.
6. Periodically
Preferably not less than once a year, the electrical installation should be inspected and tested and a report on its condition obtained as prescribed in the Regulations for the Electrical Equipment of Buildings, published by the Institution of Electrical Engineers.
IN CASE OF FIRE
Get everyone out of the caravan.
Raise the alarm and call the fire brigade.
Turn off the gas cylinder valve.
Attack the fire.
Fire precautions
Children should not be left alone in a caravan or in any other dwelling.
Make sure you know the location and operation of the escape windows and hatches, keep all escape routes clear.
Combustible materials should be kept clear of all heating and cooking appliances.
Make yourself familiar with the fire precaution arrangements on the site.
CARAVAN LOG
| | |
| --- | --- |
| MODEL | YEAR |
| | |
| | |
| SERIAL NUMBER | WHEN PURCHASED |
| | |
| | |
| FROM WHOM PURCHASED | |
| | |
| | |
| EXTRA FEATURES FITTED | |
| | |
| | |
| SERVICE CHECK INTERVALS (TIME OR MILEAGE) | |
| | |
| | |
| APPROXIMATE DISTANCE TRAVELLED | |
| | |
| | |
Completion of above details and regular maintenance may enable you to obtain a better price when selling your caravan.
In your own interest, please remember that the industry usually faces its busiest period immediately prior to the opening of the season, e.g. early MARCH. Any servicing should be arranged welt in advance and preferably during the months of October - January.


5000/12/78
Download 'original' in PDF Format