Did You Know?

*
Daniel Thomson, country joiner and Cartwright, set up at Skaithmuir Mill, Carron, Falkirk, in 1908
*
Thomson caravans started off by repairing and building Showman's caravans. In 1920s Thomson started to build Motor homes but decided against them. In 1939 the Thomson hiring fleet of 42 Almonds and others were called into active service never to return to Falkirk. During WWII Thomson started producing specialized trailers and ambulances as well as millions of ammunition boxes in a bid to help the war effort. Thomson were at one time second to Sprite caravans in the uk caravan market. The company moved to Carronshore in 1931 and in 1932 was incorporated as Thomson Caravans Ltd. Registered as Thomson T-Line (Homes) Ltd, Edinburgh. Daniel Thomson died in 1963The Company was incorporated in 1969 with the registration number SC047007. In 1982 the company ceased to produce caravans.
*
B&B Trailer chassis - B&B stands for Bird and Billington


| | |
| --- | --- |
| Caravan & Trailer Trades Journal, | May 1952 |

PERSONALITIES - R. J. TRAILL

ALTHOUGH he admits to an absence of nationalistic fervour or admiration for bagpipe music. Robert J. Traill, sales manager of Thomson's, is Scots born and bred and sure that his country has some­ thing certain others lack. It is, perhaps, this absence of excessive patriotism combined with a give-and-take sense of humour which make him a good type to get on with.
Born in Grangemouth 32 years ago he received the benefits of the justly famous Scottish educational system. First experiences of caravanning were pleasant, although spent in an old non Thomson model and, since the occasion when the towing bracket on his father's limousine saved the paternal vehicle front damage by an impetuous driver behind, he has firmly maintained that the bracket is all important! After a spell in motor engineering he went into the RAF for 5½ years. On return from service in S. Africa he was struck by squalor which he felt could be avoided by use of mobile homes.
So, in 1946, he joined Thomson's on the sales side. Two yean later he was sales manager and an Associate member of the Incorporated Sales Managers' Association; by 1950, Associate member Incorporated Advertising Managers' Association (rare qualifications in this industry).
With the separate' Thomson manufacturing and distributing companies, he has had a chance to study both s ides of the trade. The distributor, says Traill, should realise that he in part of the maker's organisation although the nature of his stock, completed vans rather than raw materials, puts the maker. At the same time, the manufacturer must always keep in view the distributor's position.

He values after-sales service ex­ tremely highly and one of his big disappointments came in 1950 with the general opposition shown to Thomson proposals for such service, although a number of dealers did accept the ideas. Traill also has strong views on pricing and would like to see similarity of method in fixing an all-in figure rather than advertising a price "plus so-and-so extra for cooker, or cylinder, or insulation, or wheels, or windows, or chassis, or panels, ad nauseum!"
Apart from business, his interests in life are concentrated on his wife and daughter, motor sport and his new A.40 sports convertible. He is Hon. Secretary of the local district motor club. He also finds time to study and admire American sales methods al­ though suspicious of their suitability for the British market.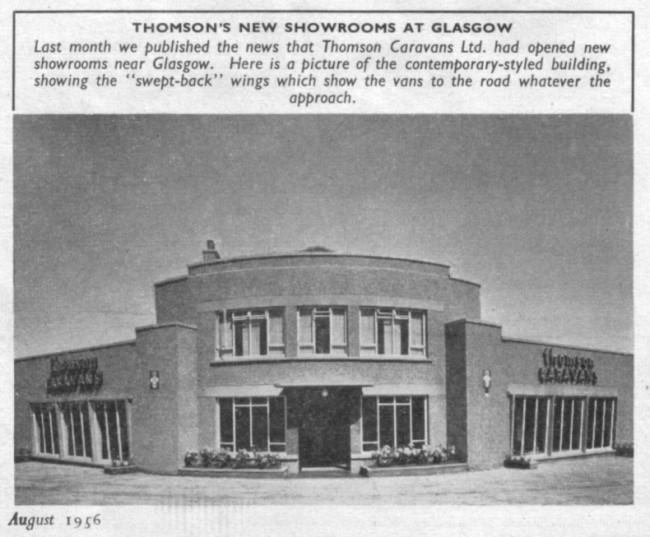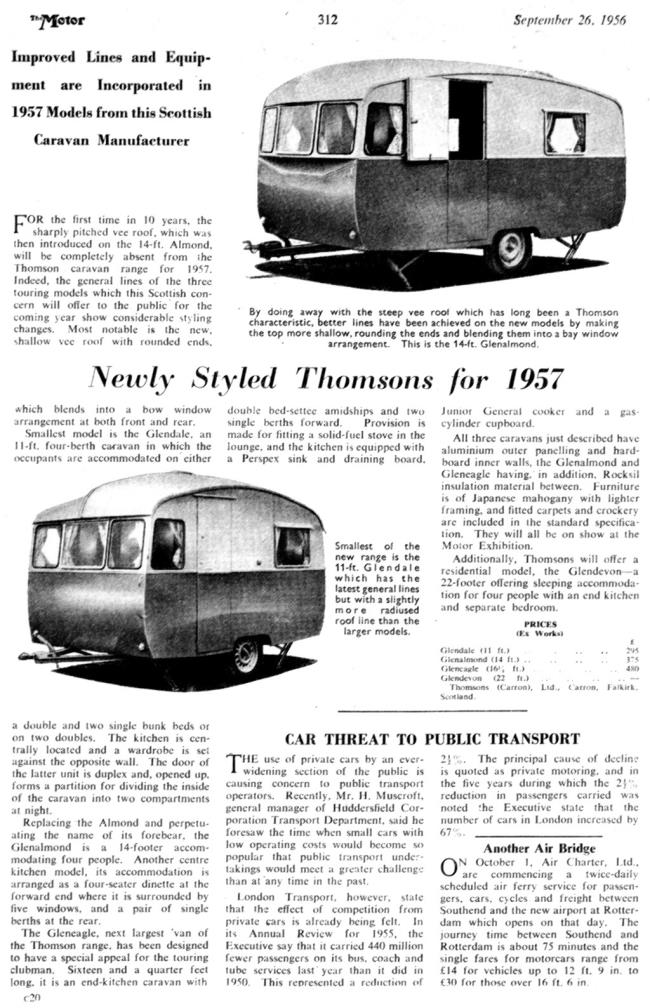 THOMSON Prices Ex. works 1st March 1957
Model

Body length

No of Berths

Kitchen

Price

CK-center EK-end

£

s.

Glenalmond

14' 6"

4

CK

375

0

Glendale

11 '

4

CK

295

0

Glendevon

22 '

4

EK

595

0

Gleneagle

16 ' 3"

4

EK

480

0
First Mobile Army Information Office - Thomson Glendale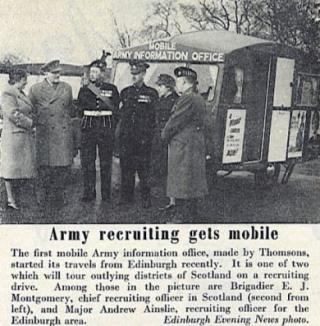 THOMSON UP-RATED -Display Ground ls.6d. Per ft.
Modern Caravan, april 1957
Thomsons Caravans Ltd must pay more rates for their Cumbernauld Road, Glasgow premises. Originally assessed at £135 when the two-acre site was a sales site only, valuation has now been put at £300 because of show­rooms, office, workshop and other accommodation that has since been built. The company appealed against this valuation, based on 1s. 6d. per square foot, but the Valuation Appeal Court has rejected the submission.
Thomsons have gone inside the Common Market.
March 1964
They are now producing two a day at Fleurus-Vieux- Campinaire in association with a Belgian company. They have for some time produced caravans in South Africa under the name Gypsey through a South African company.
THOMSON Prices Ex. works 1st March 1964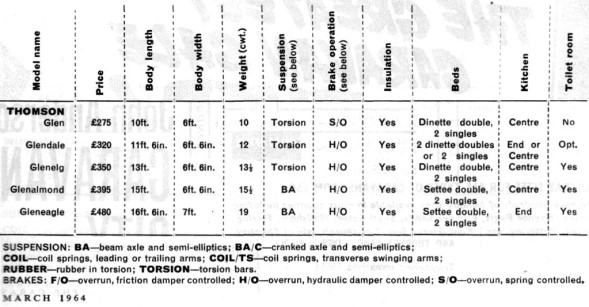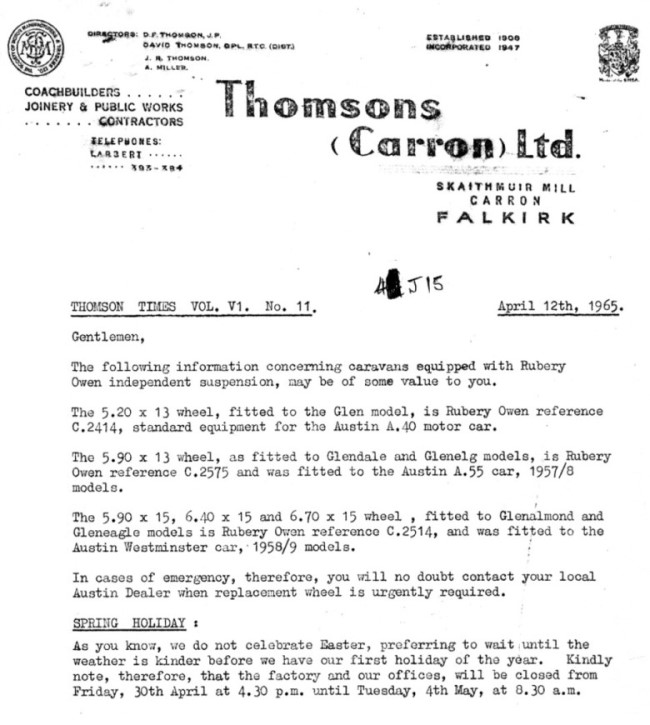 17 British makes at Essen Show

December 1965

Seventeen British makes of caravan, if the Thomson built in Germany and the Willerby built in Luxembourg are included, were exhibited at the fourth Caravan Salon held at Essen, Germany, on October 27-31. There were in all about 320 caravans and tent trailers from nine countries. A prestige exhibit was a 1926 Eccles shown coupled to a 1929 Rolls-Royce on the stand of Wilk, the German member of the Caravans International group. Three British mobile homes failed to arrive. Fairview's two exhibits were both damaged in unloading, loo badly to be shown, as managing director Derek Hammerton found only on his arrival at Essen, Astral's biggest model, the Croft, was damaged at the Hull docks on the previous Friday, and though the factory worked overtime and got it repaired and back to the docks by the Saturday the dockers refused to load it.
| | |
| --- | --- |
| Thomsons record export shipment | May 1966 |
| Claimed as the biggest ever single shipment of caravans an export order for 99 Thomsons worth more than £29,000 is loaded aboard the vessel Ireland, bound For Weir Germany, at Grangemouth. The boat's normal capacity is about 4,000 tons, but this cargo weighed only 63 tons. About 42 per cent of Thomson's production, some 1,700 units will be sent overseas this season from the company's Carron, Falkirk factory. | |
New Baby and Unchanged Changed Prices are the Features of the '67 Thomsons

November 1966

Although the Thomson range stays basically unaltered for 1967 many detail changes have been made. The roof profile on all models has been smoothed off and they are now on B & B independent suspension with Beta IV long-thrust couplings. The new Ellbee recessed window with built-in double glazing channel is fitted and upholstery is now basically mustard with white, black and lemon in the curtains. The Glen now has a two-seater dinette with its own table in place of the transverse single bed. New colour is a very bright white with a blue anodised waist moulding. A new 8ft model in two- and four-berth versions is introduced.
This is basically an economy version and although it is on the B & B independent suspension it will have a spring con­trolled coupling, 1966 style windows, rear legs only and no gas cylinder carrier, crockery, plate rack, mirror or cutlery tray is supplied. Both versions are designed for an ex-works weight of 8cwt and the wheels are interchange­able with those of the BMC minis. The two-berth layout features a rear end dinette, front kitchen and toilet room. The four-berth has a centre kitchen and two bunks across the front end. Thomson prices are not being increased for 1967.

1967 Range
8ft Mini-Glen £ 260
10ft Glen £ 298
12ft Glendale £ 370
12ft Glennevis £ 370
13ft Glenelg £ 395
15ft Glenalmond £ 440
15ft Glenmore £ 450
16 ½ ft Gleneagle £ 525
Thomson T-Line Caravans offer results
The Glasgow Herald - 9th December 1967
In response to offer for sale of 600.000 Ordinary 5s shares of Thomson T-Line Caravans applica tions were received for a total of 16,407,300 shares. Applications for up to and including 2000 shares were the subject of ballot and successful applicants received 100 shares. Other applicants were allotted about 3% of number applied for up to a maxi­ mum of 3000 in respect of applicat ions of 100 000 or more, Dealings are expected to commence on Mon­ day of next week.
Thomsons plan site
The Glasgow Herald - December 1967
Thomson Caravans Ltd have received approval for a scheme to provide Shell Bay, East Neuk, Fife, with a site for 900 caravans and more than 200 chalets. An area will be set aside for tourists and full recreational and shopping facilities are to be provided.
Third Thomson AGM
December 1967
Members of the Thomson Owners Club attending their third AGM rally-at Wootton Wawen, Solihull, on September 30 and October 1 were able to inspect a 1968 Thomson displayed on the site by the makers. Club membership has now reached 423 heads of families and more than 100 outfits were present for the rally and meeting. Seven rallies have been lined up for next year. Chairman is Frank Hathaway and vice-chairman is Bill Smith.
Thomson Forge Ahead
The Glasgow Herald - 5th May 1969
Mr David Thomson, chairman of Thomson T-Line Caravans, looks ahead with confidence at the pros pects for his company. Writing in the annual report and accounts, Mr. Thomson points out that his company have annually increased their share of the caravan market and in the first four months of this year they have again materially increased their pro­ duction. Group profits last year at £280,500, were up by 30% on the previous year and were well in excess of their forecast.
The company are proposing to establish a new growth point of some 50 acres, where they will spend £400,000 on ground and factory development and £200,000 on plant and machinery. This is to be financed from their own resources. It is also planned to increase their export drive into Europe. The outlook for a con tinuing rise in profits is therefore favourable and against this back ground the yield of over 5% on the 5s Ordinary at their present level looks conservative. The 27 ½% dividend was covered 1.9 times by Earnings last year.
CHASSIS CONFUSION
The caravan July - 1969
Two years ago I experienced trouble with the l0cwt Rubery Owen chassis fitted to my Thomson Glen - travelling over poorly-surfaced roads caused the tyres to hit the wheel-arch tops. After checking the torsion bars and discovering that three of the five springs had broken, I wrote to Rubery Owen and was provided with a set of l2cwt bars. <br>
Towards the end of last season I noticed the tyres were again fouling the wheel-arches and on checking the torsion bars I found they had twisted and were not returning to their correct position.
Rubery Owen suggested I was overloading the van, which seemed possible as I had added some items. I removed a battery, underfelt, l0lb gas cylinder, a step and some mats. With the van loaded with a weekend's provisions, clothing and a toilet, I checked t on a weigh-bridge and was staggered to find it was 14&frac12;cwt.
Delivered weight of the Glen should have been 9&frac34;cwt, though I cannot believe it ever weighed so little. I don't believe the chassis supplied to Thomson allowed for weight to be added. A 15cwt chassis would have been more suitable.
It might be a good idea to check a van on a weighbridge before buying.
START OF THE JOURNEY ''FOR CARAVANS FROM CARRON THROUGH IRANIAN SNOWS"
By Gordon Anderson
The Glasgow Herald - 5th May 1971

Since they started out half a century ago Thomson caravans have journeyed far from their place of origin at Carron, Falkirk, rested in many lands, and travelled through many more.
Today the firm, started by a joiner, have markets in all European countries and Canada, employ more than 230 workers at Carron, and are aiming at a labour force of 500. They produce 5000 caravans a year, with a target of 10.000 and have now started on the production of a model which is meant to be a static home but retains enough of the Thomson T-Line tradition to be towed in 80-mile stretches without damage.
Though Thomson's have already invested £80,000 in this venture and have the capacity to treble their factory space at Carron, they will test the market thoroughly first This is typical of the way the firm have grown from making genuine Gypsy caravans to being the second biggest caravan maker In Britain. Mr David Thomson, chair­ man of the firm and son of its founder, certainly knows more about caravans than most people. He towed one of the company's earlier products, a van almost broader than it was long, to Minehead behind a baby Austin in 1932 and he, like his father, is a time-served joiner.
In general the firm eschew gimmickry and let the quality of the caravans speak for itself. Their thought for the caravan user can be seen from the fact that the wheels on their smallest van, the Mini-Glen, were designed to be interchangeable with those of the original BLMC Mini. But they are not beyond demonstrating what their vans can do if put to it. In 1969 another member of the range, the Glennevis was towed behind a three-year-old Vauxhall Cresta from London to Bombay and back in just over three weeks. This was accomplished despite being stuck in Iranian snows, Turkish rivers, and having one side ripped open by a petrol tanker in Yugoslavia. Despite this damage, it still ran, and on time.
The proof of the caravan can be Been in the balance sheet. Profits are up considerably from 1969 when £350,437 was rung up compared with £53.694 in 1960.


Above and below the show caravan at Carron.


But of more interest to owners and potential owners is undoubtedly the craftsmanship which goes into the vans. Thomson's no longer make the ornate showman's caravans they once did, and aluminium has largely, replaced plywood as the sheath for the vans. There is more of a factory atmosphere about Carron than the old Skaith muir Mill joinery but there is still the feeling that everything under the characteristic "boat" roof, or the flat roofs of the new mobile homes, is right for a start, and then is checked and double checked by people who know their business.
Their 100 distributor and their major sales points in Glasgow and Edinburgh can now chose from a nine-strong "T-Line" range. The Mini-Glen weighs less than the small car which could tow it, and leaves the works at £395. It has dinette beds, cooker, sink, toilet, wardrobe, roof locker and shelf, table and cabinet, yet does not give the two occupants the feeling of a Japanese train at the rush hour. The four berth Gleneagle, at the top of the range, at £710 ex-works, jives all these, plus a settee bed, side­ board, space for a refrigerator, and a chest of drawers.
The cheapest four-berth, the Glen, divides its 10ft length into separate living-sleeping areas as required, and there is also a slightly dearer two-berth version which has more storage space, and even more toilet accommodation with full kitchen facilities.
Thomson T-line setback
The Glasgow Herald - 30th September 1971
By our business staff.
Thomson T-Line Caravans of Falkirk took a smart knock in the first half of 1971 with profits crumbling from £231,000 to £91,000.
Trading conditions at the start of the year, say the directors, were difficult, but there has been a considerable improvement since.
They are confident this improve­ ment will be maintained over the remainder of the year as economic conditions become easier. The new caravan season has started earlier than usual, and with orders reaching record levels the group's factories are building up to full production.
Next year is expected to bring a return to growth, and meanwhile an unchanged interim of 15% has been declared.
Confident T-Line take the clear road to success
The Glasgow Herald - 9th May 1972
By our business staff.
Thomson T-Line Caravans, of Falkirk, whose trading profit last year went down by worse than 110%, are back happily on the road again.
Even before this spring had started business was better by about a quarter, despite loss of production because of the February power cuts.
"I am confident that substantial progress will be made in 1972," Mr David Thomson, the chairman, tells shareholders. The way ahead looks clear all round.
Thomson's bedding factory at Paisley is in full production. The T-Line (Homes), they make residential units, are penetrating wider markets.
Baird, their timber company, continues to find brighter markets.
About 54% of Thomson's business Is making caravans, sales of which suffered last year because of shortage of cash In Scotland.
Here the outlook now is more relaxed. In fact, Thomson Intend to concentrate more on, British customers.
The European market is not what It was for Imported British touring caravans, as German and other makers catch up with UK vehicles. Their sales have had a brake put on them by tariff barriers and freight charges.
"We see no immediate Improvement in this situation ," Mr Thomson says. "We will be concentrating our efforts where the results appear to be more profitable."
T-Line may be taking a rest
The Glasgow Herald - 30th May 1974
By Our Business Editor.
Thomson T-Line Caravans may be forced to take a rest. They expect profits to fall this year following a 50% loss of production of touring caravans during the three-day week, when other group interests also suffered.
This was revealed by Chairman Mr David Thomson at yesterday's annual general meeting in Falkirk.
Losses in the touring sections had been overcome, and the company were now making progress.
Admitting that 1974 would be a difficult year Mr Thom son said that the group are planning for all round expansion in 1975.
Earlier he said that until October the board had been confidently forecasting pre­tax profits in excess of £500,000 against an outcome of £423,481 after they were hit by the oil crisis.
Reduced dependence on touring caravans with the expansion of timber interests and increased exports, had laid the foundation for the company's future growth.
Thomson T-Line Turning
The Glasgow Herald - 4th October 1974
By Our Business Editor.
Down 5p to 47p a day ahead of the interim results shares of Thom­ son T-Line Caravans lost another penny yesterday when the company re­ vealed a fall in pre-tax profits from £264,344 to £21,635 in the first half of the current year.
The interim dividend is 2.63p against 2.7475p last time.
In fact, Thomson said back in May that the full impact of the oil crisis and three-day week had reduced production in the touring caravan section to 50%, with resulting losses in the early months of 1974. Other sections of the business suffered as well, but to a lesser decree.
Chairman of the Falkirk based company, Mr D. Thomson, said then that 1974 would be a difficulty, though the group were planning all round expansion in 1975.
Currently they report that diversification and revival in sales of touring caravans have meant a recovery to more profitably trading. "W ith better prospects for the year as a whole."
Thomson T-line to make cutback
The Glasgow Herald - 17 February 1978
By GRAHAM McMORRIN
Falkirk based caravan and trailer manufacturer Thomson T-Line Caravans is expected to issue a state­ ment later today announc­ ing that the workforce of its caravan division is to be halved.
Due to unfavourable trading conditions in the industry generally there will be 19 redundancies, and 95 people are to be laid-off for an undisclosed period.
This move is to be followed by the sale of land owned by Thomson, but this sale will not include property at present used by the caravan division and will not affect caravan production.
The confidence reflected in die directors' report towards the end of last year has evaporated amid falling demand in the home market for caravans.
This is seen by company secretary W. J. Sewell as a feature of depressed spend­ ing on consumer durables in general
But an official of another Scots caravan company said that 1977 was an "excellent year" in the home market and that although volume dipped in recent months strong signs of recovery are now present.
Thomson Time has hard year
The Glasgow Herald - 27th April 1978
By JOHN HAWTHORN
For Thomson T-line Caravans 1977 was a difficult, disappointing year with turnover 6.4% lower at £3.5m and a 1576 profit of £160,772 turned into a pre-tax loss of £23.460.
But the stock market has been discounting the bad news and the shares finished unchanged at 44p.
The writing was already on the wall at the halfway stage when, pre-tax, profits fell 34% on a 14%rise in sales. I t was then pointed out that the downturn in the first six months was caused by a severe cutback in touring caravan sales during May and June.
Even in the interim report the board did not seem particularly optimis­ tic about earnings in the second half of the year and was looking to 1978 when improved design and specification changes introduced to its new season's range of caravans would help it increase its market share and bring more satisfactory results.
Earlier this year it was pointed out that the caravan division had not been working to capacity for a long time because, it was believed, of a reces­ sion in the industry rather than anything particular to Thomson.
With the payment of a final dividend of 1.65ps net making 2.5p gross the total for the year is repeated at 5p.
Bantaskin Investments has waived its right to participate in the dividends paid or payable for 1977 on 600,000 shares.
Halcyon days passing for caravan makers
The Glasgow Herald - 28th September 1978
By JOHN HAWTHORN
A lot of the carefree happy-go-lucky atmos­phere has been driven cut of the touring caravan business.
Industry wide statistics show there was a big drop in the number of units built this year.
Now with its half-way figures for the six months to June 30 last Thomson T-Line Caravans spells out what this means to the profit and loss account.
On a 2.6% fall in turn­over to £2.12m the company turned in a pre-tax loss of £119.817 against a profit of £38.965 in the comparable period of last year.
In March it sold its in­terests in the Kincraig caravan site at Elie.
This was held in the company's books at £144.686 and realised £203.928. The surplus of £59,242 has not been in­corporated in the profits.
Work force reduced
Although Thomson is maintaining its interim dividend at 1.65p net which, together with a tax credit, makes the pay­ment equivalent to 2.5p gross the figures do not make encouraging reading.
The poor results were caused mainly by the continued recession in the touring caravan industry, the board said.
This made it necessary to cut the labour force to match lower sales.
Thomson's results have been helped by its static caravan business and its timber merchanting interests both of which turned in a profit although no figures have been released showing how large this was.
But prospects for the touring caravan business are not very bright despite the fact that towing caravan retailers in dif­ferent parts of the country report that It looked as if sales were beginning to perk up at the end of the season.
The results did not please the market which knocked 5p off the share price to 56p.
Meantime, Thomson faces a sharpening up of already severe competi­tion as other manufacturers invest more heavily in plant to make touring caravans.
And these will be coming on to a market which is still in the doldrums.
"In 1975 touring cara­vans accounted for 11% of the total number of tourist trips made in Scotland." an official of the Scottish Tourist Board said yesterday.
Less used for tours
"By 1976 it was down to 8% of the total and last year the figure fell to 5%."
Reasons for this, it is suggested, were the price of petrol and bad weather, for the market in static caravans it pointed out has remained remarkably steady over this period.
Whatever the short-term holds out for the industry, however, it is optimistic about the longer haul. Statistics on self-catering holidays indicate a steadily increas­ing market which should rise strongly into the 1980s.
Nevertheless, Thomson faces short-term difficul­ties and the prospect of being bailed out by a takeover cannot be high with the competition already increasing its market share.
Fiscal hits out at site owners over 'death trap' caravan

The Glasgow Herald - Nov 10, 1978

BY IAIN GRAY
A caravan in which two teenage boys and their grandmother were found dead was described as a death trap on the last day of a fatal accident enquiry in Kirkcudbright yesterday.
Summing up, Mr Forbes Gibb the procurator fiscal said the evidence in the three-day inquiry had given rise to cause for very considerable public concern.
Graham White aged 17, his brother Douglas aged 14, and their grandmother, Mrs Polly Craig, aged 72, of 325 Brodie Avenue, Liverpool, were found dead from carbon-dioxide poisoning in the eight-berth caravan at Auchenlarie holiday farm, near Gatehouse-of-Fleet, in May.
The boys' parents, Mr Ted White, aged 52, and his wife Jane, aged 45 were found unconscious and taken to Dumfries and Galloway Royal Infirmary, where they recovered.
Mr Gibb said: "It seems to me that the evidence has clearly shown that the circumstances into which the White family went constituted something which can only be described as a trap, a lethal situation of which the management at Auchenlarie had ample and detailed notice, not on, said the evidence did not justify the claim that the operators were to blame for the tragedy. Evidence had shown that the fault in the fire would have been very difficult for anyone other than an expert to detect.
Following a previous complaint about the fire a site employee did check it, and his clients had instructed him to call for a check on all similar types of fire.
Mr William Shearer, for Stewartry District Council, said it would be a practical impossibility for inspectors to examine the interiors of all the caravans in the district at any particular time. Earlier Mr Roy Patrick, of Thomson T-Line (Homes) Ltd., based in Falkirk, said he had been shocked when he inspected the caravan after the deaths and found two roof ventilators bad been screwed down.
Mr James McCulloch told the inquiry earlier he had sealed these two vents to prevent them blowing off in storms due to faulty catches. He said he had experienced difficulty In obtaining replacement catches, but Mr Patrick said Thomson T-Line had ample replacements.
Sheriff Principal Charles H. Johnston said he would give his findings after the New Year.
Tenants' caravans 'not up to standard'
The Glasgow Herald - Feb 16, 1979
By ALAN McDERMID
Caravans in which council tenants in Greenend, Monklands, Lanarkshire have spent the past two months while their homes are being renovated are below the standard required for winter use, it was claimed yesterday.
Mr Jack Halley, a Milngavie caravan dealer, went to see them for himself after reading about the tenants complaints in the Glasgow Herald.
The families, with as many as 10 children, have been staying in the caravans since before Christmas because of delays in modernisation work, and have complained about cold and dampness in their temporary homes.
Mr Halley said: "These are static holiday caravans generally intended for use from April to October and are unsuitable for extremes of weather. They are not mobile homes which are intended for all year round use and have to conform to a British standard which includes insulation and other factors and are consequently more expensive. "
Mr James Ness, the chief executive of Monklands District Council, said their technical services department had specified Thomson T-Line or equivalent standard caravans to the building contractors who are responsible for providing them.
Mr Ness added: "The combination of delays, extremely cold weather leading to constant use of the gas fires and in some cases large families living in the caravans, has led to conditions of condensation, which were not anticipated. The contractors meet the cost of the gas for the heaters, and we are doing everything we can to alleviate the problem.
The caravans, however, are not Thomson's. A spokesman at Thomson's Larbert factory said; "Although our T-Line caravans do not carry British standard certification for mobile homes, they conform to it in practically every respect, including insulation. The only possible differences might be in the type of heating. We normally provide an electrical heating system."
The contractors involved are HGS Ltd., but no one was available for comment at their Newcastle headquarters yesterday.
Caravans Cost Thomson
The Glasgow Herald – Sep 27, 1979
By JOHN HAWTHORN
There is nothing leisurely about the way Thomson T-Line Caravans' fortunes have driven the company into the red over the past few years.
In the six months to June 30 turnover was down 4. 9% to £2m, and there was a pre-tax loss of £22.663 against a loss of £119.817 in the opening half of 1978.
The directors admitted yesterday that the first half of the year had produced a further disappointing result, but the losses had been contained, which was a considerable improvement compared with the first six months of 1978.
"This has been achieved through diversification of products in the touring caravan division which is expected to bring the group back into profitability during 1980.
The interim dividend is being raised from 1.65p to 1.75p.
However, it looks as if the caravan business at least will still be losing money in the second half.
The extent of caravan losses, which started in 1977, have been masked as the timber merchanting business J. Baird, Falkirk, has been steadily chipping in profits.
This year the market expects that Baird could again contribute about £90.000 profits before tax to earnings.
The shares finished 1p lower at 45p after the results.
Buyer wanted

The Glasgow Herald - 29th May 1980
Chairman of Thomson T-Line Caravans, Mr David Thomson, is looking for a buyer for his con­trolling stake in the group.
Al the group's annual meeting yesterday Mr Thomson, who pointed out he had passed normal retiring age, said he believed the group's next stage of development should be in other hands and was now looking for a buyer for the 60 % stake controlled by him and his family interests.
Buyer of the stake, worth around £670,000 at current market levels, would then be invited to extend the offer to remaining shareholders.
Thomson suffered Josses last year of £272,000 before tax.
Thomson halts payment

The Glasgow Herald - 1st October 1980

By R. E. DUNDAS
Thomson T-Line Caravans, of Falkirk, which has continued to pay dividends on its Ordinary shares despite three years of losses, is no longer dipping into its reserves for this purpose.
Results for the six months to June 30 show a jump in the losses before tax from £22,683 to £126,399 as turnover fell from just over £2m to £1.85m. As a result no interim dividend is to be paid, compared with 1.75p last year.
The company is blaming the further setback on reduced sales of touring caravans and the "heavy burden of current bank interest rates."
Further redundancies have been announced to match the reduced demand. The company says that negotiations are in hand for the sale of surplus land and buildings which "should go a long way towards eliminating our bank borrowing."
No purchaser has yet been found for the Thomson family's shareholding, about 60% of the equity. None of the inquiries so far received satisfy the basic requirement that the purchaser would make the same offer to all the other shareholders.
Thomson says this matter is proceeding, and "a further announcement will be made again in due course."
After a tax credit, the loss per share for the first half worked out at 3.79p, compared with 0.986p. Ahead of the results the shares were up 5p at 55p.
Thomson T-Line will have to look for new buyer
The Glasgow Herald - 8th April 1981
By ANDREW ELDER
The long trek to find a buyer for Falkirk caravan manufacturer Thomson T-Line Caravans shuddered to a halt yesterday as the board announced that talks over a possible offer have been terminated.
Now Thomson, with no lack of financial headaches, has to seek other prospective purchasers of the company as a going concern or, what seems more likely in the short term, start to sell off certain parts of its land and property assets.
The company has had losses in each of its last three financial years and the search for a buyer began after the annual meet­ ing last May when the chairman, Mr David Thomson, announced he was will­ ing to sell the 60% of the company held by himself and his family.
He explained he was past "normal retiring age'' and believed "the next stage of the company's development should be in other hands."
Merchant banker Klein wort Benson was instructed to look for a buyer and spent several months sifting through inquiries be fore in February it was an nounced that talks were underway which could lead to an offer.
The shares were sus­ pended at that time at 67p which capitalised Thomson at £1.1m. There had been a 23p spurt in the share price in the days before the an nouncement of the talks, however, on apparently in spired marker interest.
The names of the poss ible purchasers were not d isclosed at that time but yesterday Kleinwort Ben­son said they were Mr Bob Morton and Mr Alex Merrit who sold their Euro-Exhaust company to Kwik-Fit in a £10m deal more than a year ago.
Each holds a 5% stake in Thomson and the deal fell through because Mr Thomson was not able to give "certain property valuation guarantees."
The merchant banker says the price was considerably in excess of the market value of the shares but declined to name a sum. The next step? Kleinwort will continue to look for a buyer and meanwhile the board is likely to seek a purchaser for properties surplus to requirements.
There can be no great optimism on either score. For Kleinwort unless a new figure appears on the horizon it will be a case of going back over the list of possible bids which were formerly turned down on the basis of a possibly higher Morton and Merrit bid.
At the last published valuation in September 1979. Thomson had land and buildings valued at more than £2m the board, however, is believed to have been trying to dispose of unutilised land and ac­ commodation for some time, apparently without success.
The problems with Thomson T-Line stem from a decline in the touring caravan market in the UK.
Another Scottish firm, Black and Edgington, last year sold its interests in caravan manufacture because of the recession.
Thomson's shares fell 24p to 43p after the listing was restored yesterday. The market obviously has no great confidence in an early resolution of the search for a buyer.
Surplus land

The Glasgow Herald - 31st December 1981
Thomson T-Line Caravans reports that in addition to the sale of lands previously announced, they have made available for sale additional surplus land and buildings to the value of £1.1m. The directors are continuing to reduce operations by running down production at the group's loss-making companies in the caravan and trailer industry and to this effect notices of redundancies have been issued to the employees concerned.
Selling assets

The Glasgow Herald - 15th Dec 1982

Mr David "Thomson, chairman of Thomson T-Line Caravans, says in his annual report that the company has on offer surplus land and buildings at a value in excess of £1m. Since the commencement of the year certain assets have been sold for £802,000 and all trade creditors of the caravans and trailers sections have been cleared.
The current year will still bear bank interest charges, but he believes that once these are eliminated the company can again be profitable and expanding.
No caravans help T-Line

The Glasgow Herald - Sep 30. 1982 Browse

By STEPHEN LEATHER
THOMSON T-Line Caravans' decision to unhitch its loss-making caravan and trailer business is starting to pay off.
Company secretary Mr W. J. Sewell said yesterday the slimmed-down Falkirk -based company could be back on the road to profitability.
Interim results published yesterday showed a pre-tax loss of £342,000 , a slight improvement on last time's £348,000 losses while sales declined from £1.44m to £1.10m.
But the company sold a parcel of building land with a book value of £100.000 for £800.000. After taking off development land tax and corporation tax of £211.000 the sale, if included in the Interim results would have put Thomson in the black.
"It wasn't included because, said Mr Sewell, it might have given the impression that we have done better than we really have."
But now that the company has closed its caravan and trailer activities question of dropping Caravans from the company title will be raised at the next annual meeting, the future seems a little brighter than it did a few years ago, he added.
Bank borrowings have "been reduced considerably" and with further sales of fixed assets expected - mainly building land around Falkirk - the board hopes to "clear its bank debts completely and return to profitability."
Thomson has been re-classified as a timber company, and the timber subsidiary is now trading profitably, said Mr Sewell No interim dividend is being paid again, but the shares rose 1p to 42p following the results.
T-Line losses
The Glasgow Herald - Apr 28, 1983
Although out of trailer activities, Thomson T-Line Caravans yesterday reported a £299,889 group loss, as compared with £513,813 a year previously.
Extraordinary items provide clues to recovery. Compared with a previous £286.000 debit there is £284,253 credit for fixed assets disposals. This leaves an attributable profit of £13,588 compared with loss previously.
What's in a name

The Glasgow Herald - 17th May 1983

Thomson T-Line Caravans is unhitching the word "Caravans" from its title. Chairman Mr David Thomson says in his annual statement: "Since the caravan and trailer subsidiaries are now dormant, it is felt t hat it would be more realistic if the ward 'Caravans' be deleted from the name of the company.
Mr Thomson added that he expects the current year to "show further substantial growth and leave us ready to rebuild the group once this is economically possible."
Caravans unhitched

The Glasgow Herald - 9th June 1983

At the annual meeting of Thomson T-Line caravans yesterd ay a resolution was passed that, subject to approval by the Department of Trade, the name of the company be changed to Thomson T-Line to reflect the discontinuation of the caravan business.
T-Line reduces losses

The Glasgow Herald - 27th September 1983

By STEPHEN LEATHER
Thomson T-Line , the Falkirk based company which has given up making caravans and concentrated on its timber business, yes­terday reported interim pre-tax losses of £67,599, an improvement on last year's losses of £241,629.
Trading losses show an improvement from £139,763 to £6343, with losses per share reduced from 12.40p to 0.04p.
Last month Thomson unhitched the name "Caravans" from its of­ficial title as it continues on its road to profitability.
The company has been incurring losses since 1977, reaching a peak of £592,000 in 1981, and a far cry from 1973's pre-tax profits of £427,123.
Turnover for the six months ending June 30, 1983, was down from £1.18m to £896,863.
A company official said that during the period of the results, sales of surplus assets took place which resulted in gross proceeds of £100,000 on which there is an estimated liability to tax of £4000 after group relief. This transaction has not been incorporated into the results, he said.
T-Line target is to reduce its borrowings

The Glasgow Herald - 19th May 1984

By STEPHEN LEATHER
The chairman's statement from David Thomson of Thomson T-Line (which recently unhitched the word Caravans from its title) is short and sweet this year.
"During the year under review, sales of surplus land and buildings were disappointingly slow, and though values were achieved, the volume of sales did not come up to our expectations.
"The current year has commenced with an increased number of serious inquiries which suggests better prospects of further disposals."
J. Baird and Co (Falkirk), the group's timber merchanting business, has continued to make steady but sound progress, he said.
"We propose to continue our policy of disposing of surplus fixed assets to eliminate bank borrowings and encourage growth," he added. And that is all he has to say.
Slightly longer, and a bit less sweet, is the report of the auditors, Arthur Young McClelland Moores & Co.
"The accounts have been prepared on a going concern basis, which is dependent on the continued support of the group's bankers," said the accountants.
Certain land and buildings, which are available for sale, are included in the consolidated balance sheet at the directors' estimate of their realisable value of £1,086,000.
"We are unable to express an opinion on whether these properties are realisable at this value."
They also point out that the accounts do not include supplementary current cost accounts "contrary to standard accounting practice", but that is not unusual these days.
Thomson looks to brighter times

The Glasgow Herald - Nov 8. 1986

By ERIC BAIRD
Cheerful despite a £59,224 pre-tax loss yesterday was Thomson T-Line. It has gone through the trauma of being in caravans and other activities to emerge as a full­blown industrial holding company, still with a base in Falkirk.
After at least five years of weakening losses, totalling over £l.4m, Thomson now seems to have ended the run. It has just sold James & Tatton, a steel stockholding business for £3.2m, and joint chairman Hugo Biermann said last night it meant that effect ively all borrowings had now been eradicated
"The decks are cleared," he said and we shall be looking at fresh oppor­tunities, but in the industrial service sector rather than manufacturing, particularly in electronics."
Thomson is retaining its Jaton industrial fastener business, where the current level of trading is described as encouraging.
In the six months to June 30 Thomson's turnover was £926,290 (£906.806). Interest charges amounted to £62,734 (£100,479).
The trading results largely reflected the activities of J. Baird (Falkirk) in timber merchanting, now the sole trading subsidiary of the original group.
Scots ripples in pools world

The Glasgow Herald - Dec 12. 1987
By Eric BAIRD
IT must have been a bit like winning the treble chance for Falkirk Thomson T-Line Company yesterday when it won the option to take over Vernons pools. The deal could make the former caravan and timber business a megastar, but, cool-headed as ever, joint chairman Hugo Biermann wanted to take a hard look at the books first.
Vernon's, the second biggest pools promoter, is clearly optimistic about the deal going through even if the 1300 staff at the Liverpool HQ were bewildered by the Scottish link.
Pools maestro Robert Sangster issued a confident statement to the effect that he intends to continue as chairman, maintaining the family links. If the deal goes through he will join Thomson T Line's board. His son Guy already works for the prospective purchaser, which explains how they got together.
Sangster Snr is not retiring. He sees the link with a public company as being in the best long-term interest and says members of his family are not very interested in being involved. More important is the ambition to get the Sangster name back at the top in horse racing circles.
In City terms, Thomson T-Line has been translated into a conglomerate; its loss-making caravans long since hitched up. As a thrusting industrial holding company it is run from London but not even the prospect of a pools win put Mr Biermann off his Scottish stroke, as he enthused on a development project in Falkirk. He is also hopeful of a further acquisition locally in the near future.
Meantime, right through the Christmas holidays, he and a team of advisers will be examining the pools business. "It is a very complicated structure and we are only interested in the non-racing interests." he said. "I would emphasise that at this stage it is only a two-month option and our assessment will determine the price and structure of the deal."
Mr Biermann said that any talk of a £100m deal was off the mark. At this stage, however, Vernons Pools looks promising for Thomson T-Line, which understandably has an eye on the huge and steady cash flow it generates. That suits an industrial holding company admirably in the wake of the stock market slump when store paper is at a low ebb.
Caravan Related News Archives