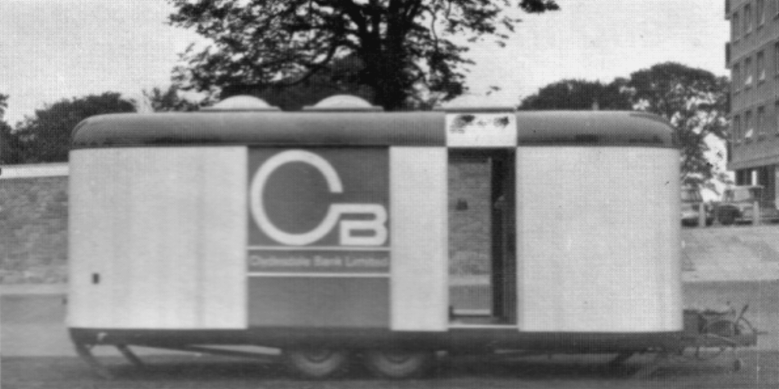 SINCE the early days Thomson has been making special custom-built caravans for the individual customer, like this mobile bank for use at shows and exhibitions by the Clydesdale Bank.
It is 22ft. by 7ft. 6in. and weighs three tons, strengthened to carry a 3 cwt. safe and other banking equipment.
For the Church Thomson has built mobile manses, information offices for the Scottish Tourist Board, caravans for police and hospital use, dental clinics, work­men's quarters on hydro-electric schemes, many mobile shops down to the 10ft. size.
One caravan shop, jocularly called "the double-decker," had an overall height of 15ft. because of local health requirements for 12ft. headroom. It was also constructed largely in steel for security reasons
As David Thomson, the chair­man, said: "Fundamentally we are coach-builders, basing our reputation on high-class materials and sturdiness of construction. Though we build large numbers of touring caravans, we have always been interested in the special one-off job, tailor-made in size, shape and function to the re­quirements of the individual customer."
The Thomson Owners Club, inaugurated in 1964, is already the second largest one-make club of its kind with more than 700 members. A Scottish Division was formed in 1969.
Run independently of the company but with its full support, the Club holds rallies throughout the country, with socials, competitions and a dinner dance. In winter members keep in touch through newsletters.
Membership costs a nominal 10s. a year, after an initial enrolment fee also of 10s.
THOMSON CARAVANS SINCE THE WAR
1946-47 17'6" Kelvin, 14'6" Endrick.
1948-49 17' 6" Kelvin Star, 13' Avon , 8' 6" Swift.
1950 18' Deveron, 13' 6" Almond, 8' 6" Dart.
1951-52 22'Braemar, I7'6" Clyde , 14'Almond, 9'Carron
1953 22'Solway, 17'Annan, 14'Almond, 9'Carron.
1954-55 22' Solway, 14' Almond.
1956 22' Solway, 16' Forth , 14' 6" Almond V and VII, I I' 6" Leven.
1957-58 22' Solway, 22' Glendevon, 16' Gleneagle, 14' 6" Glenalmond, II' 6" Glendale , 10' Tramper (for export).
1959 18' 6" Glenrosa, 16' 6" Gleneagle, 14' 6" Glen­almond III and IV, II' 6" Glendale , 10' Glen.
1960-61 30' Great Glen, others unchanged.
1962 Glenrosa, Gleneagle, Glenalmond (15'), Glendale Two and Four, Glen.
1963 Introduction of T-Line range-addition of 13' Glenelg, other models unchanged in name. Glenrosa discontinued.
1965 Addition of 15' Glenmore, Glennevis replaced Glendale Four.
1967 Introduction of 8' 6" Mini-Glen (2 and 4-berth).
1968 Addition of I 5' Glengarry.
1969 Gleneagle, Glenmore (15'), Glenalmond 7, Glenelg, Glennevis (12'), Glendale , Glen, Mini-Glen 2 berth.
1970 Complete range restyled; addition of Glen 2-berth, making nine models.
Reproduced from a 1970 publication by Thomson T-Line Caravans Ltd called The "T-Line Story"