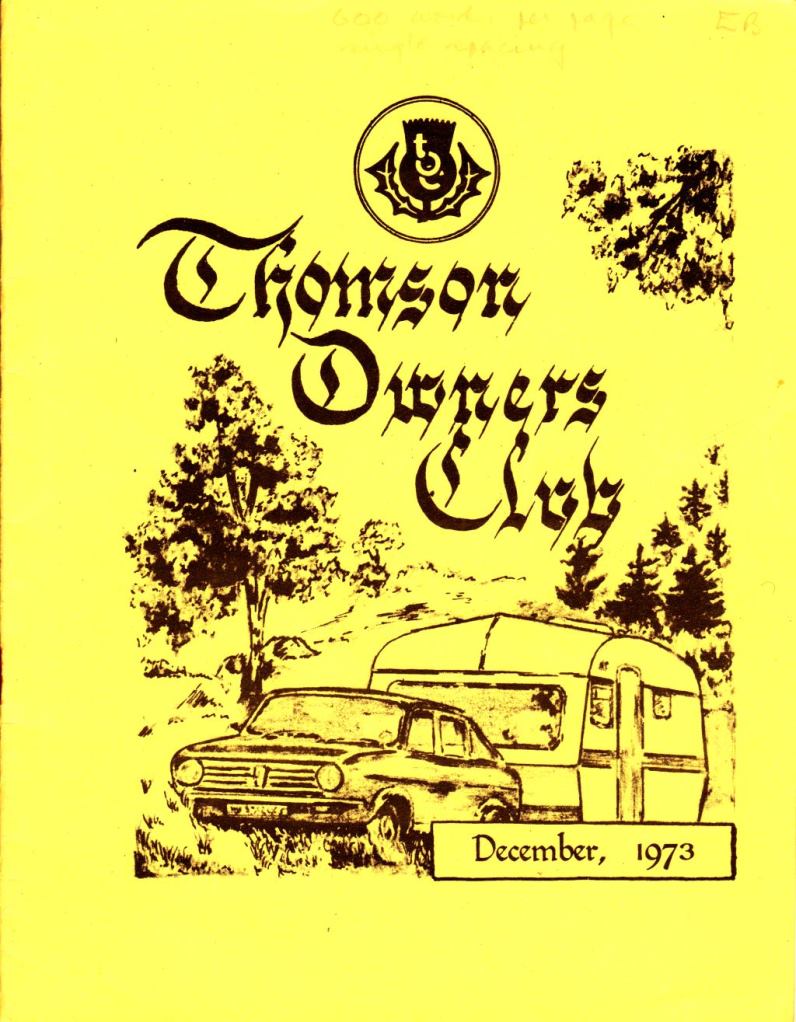 FOREWORD BY THE CLUB PRESIDENT
December 1973
Dear Member,
It is a great pleasure to me to welcome the production of the second edition of the Club magazine. I hope very much that you will find much pleasure in reading the contents and finding interest within it.
As you know, we have in the past had Newsletters, but these tended to suffer from pressure of space. By putting this news into a magazine form I would hope to see a more leisurely approach and a larger choice of subjects to attract interest.
Both my wife and I look forward so much to meeting you all again on the Rally field, that we may continue old friendships and make new ones. Hoping our aims are fulfilled which are Sociability, Friendship and Fellowship which make life worth living and hoping we all enjoy our caravanning week by week through the season. So thanking you most sincerely for your Cooperation, Support and Friendship.
Yours sincerely,
BILL SMITH
(W. H. Smith, President)
CHAIRMAN'S INTRODUCTION
Dear Fellow Member,
It is with great pleasure that I welcome you to this end-of-season issue of the magazine. Although not perhaps as full an edition as we might have wished, there will no doubt be much to interest you within the following pages.
In many ways the past season has been a truly memorable one, with good weather and pleasant venues combining to give us the carefree and interesting weekends that every Rally Officer hopes will reward his efforts. A note of regret for myself and I am sure for many of you also, was the enforced decision of our previous chairman, Peter Ward, not to seek a second year of office owing to ill health. It was indeed pleasant to see Peter and Margaret rallying with us again at Upper Quinton.

The AGM, held this year at the Stafford showground, saw several changes in the composition of the Executive Committee. Our sincere thanks are due to those former members who felt that the time had come to retire, many after several years of loyal service to the Club. To those newly elected members who have taken their places I wish, on behalf of us all, a happy and successful term of office.
As you may know, the Spring issue of the magazine was edited by Trevor Marsh, a former Chairman of the Club and in 1973 the committee member responsible for public relations, until his retirement at the AGM. This edition is under the guiding hand of Bill Neagle-Jones who is gallantly combining the duties of PRO with those of Vice-Chairman. There is no doubt Bill will be more than pleased to receive any written contribution that you may wish to make to future publications - items of general interest, technical topics, articles for sale or exchange, recipes from the ladies, wine recipes from the vintners and holiday tales such as that tour abroad or to the Highlands- Anything that interests you is likely to be of interest to the rest of us.
It is your magazine and can be really successful only if ,'given your support, so why not try putting pen to paper and sending the result to Bill in good time for the next edition?
You will find that this issue has arrived together with the Christmas card and a questionnaire from the Thomson Company. The distribution has been under­taken by Thomson's, an act of generosity which has saved us the quite considerable expense of circulating a membership exceeding one thousand. For this assistance we as a Club are grateful and I feel sure that Thomson's will be pleased to have your help by completing the questionnaire.
We enjoy a close relationship with the Company, which has always taken a keen interest in our wellbeing and affairs. It was with much pleasure that we entertained their Sales Director, Mr. Robin Traill together with his wife, at the Dinner Dance at Oxford.
Another good friend who was also present as a guest was Mr. Leslie Styles of Summertown Caravans, Oxford.
At the time of writing this introduction the season has recently drawn to a close with a truly "sparkling" rally organised by our teenagers at Upper Quinton. The only event remaining in the 1973 calendar is the Christmas rally, following which the turn of the year leaves eagerly anticipating next year's programme, when my wife Sheila and I look forward to enjoying your company on the tally field.
Until that time comes we wish you all a truly happy Christmas and the very best of good wishes for the New Year.
Yours sincerely,
BRIAN BUCHANAN
SCOTTISH DIVISION NEWS 1973
The Scottish Division rally programme was well supported, with an average attendance at our seven tallies of 55 vans. We were pleased to welcome many friends from south of the border, a number of them on more than one occasion. Our first holiday rally at Dornoch in July attracted 52 vans from all over the country. The weather man was reasonably kind, particularly at the latter part of the rally and was very pleased to see a number of members still in the area after the rally had
finished.
Membership has again increased and now stands at 170. This is a 40% increase on the figure at this time last year.
Ian Eraser retired from the post of Scottish Division Vice-Chairman at the AGM in September. Our thanks to Ian and Betty were expressed at the Auchenbowie rally when they were presented with a plaque to mark the occasion. The Vice- Chairman office has been taken over by Bill Arnott and Bill Marshall has filled the vacant Committee position.
Winter Activities
New Year Rally. We have been offered the use of the Auchenbowie site for a New Year rally which we will organise if there is sufficient support. It is proposed that the site will be open from noon on Saturday 29 December 1973 to noon on Wednesday 2nd January 1974. An invitation is extended to members from the South to join in our festivities. If you are interested drop a line to A. Andrews, who will send you details and booking slip.
Winter Ceilidh. This will be held once again at Seafield Hall, By Bathgate on Saturday 2 February 1974. Details will be in the rally book or from W. Arnott, Scottish Division Vice-Chairman. Accommodation for caravans can be arranged.
Teenagers - A meeting of the teenage members will be held at the Winter Ceilidh to plan the ir future activities. An invitation is extended to all teenagers to attend.
1974
A programme of eight rallies has been organised. These include a 5-day rally in August and the factory visit in September. Full details are in the rally book and will be in the Spring newsletter.
Finally, Thanks to all who contributed in any way however small to the success of our 1973 season. I look forward to meeting you again in 1974.
C. AULD Chairman, Scottish Division
SCOTTISH DIVISION COMMITTEE,
The Scottish Division held their AGM at the Bridge of Allan Rally on September 7th-9th. The following members were elected to office and committee.
Chairman: Mr. C. Auld
Vice-Chairman; Mr. W. Arnott,! Hon. Secretary; Mrs. M. Pizer
Hon. Treasurer: Mrs. E. McCowan.
Committee: Mr. A. Andrews, Mr. J. Little, Mr. W. Marshall, I Mr. W. H. Smith

FOR SALE-FOR SALE-FOR SALE-FOR SALE-FOR SALE-FOR SALE
1969 Glen Nevis. Good condition, many extras £395
I pair McKinney Spring Assisters.
Towing Brackets. Dixon-Bate towing brackets for MK1 1800 and MK10 Jaguar, also Witter towing bracket for Mk.10 Jaguar £5 each.
1970 Glendale. Excellent condition. £420.
SOME COMMENTS FROM YOUR NEW CLUB SECRETARY, ELIZABETH BROWN
If, like me, you have never written an article in your life, imagine how 1 felt when Bill Neagle-Jones asked me at the Upper Quinton Social if I would write an 'article' for this magazine, and he must have it by the following Thursday! I thought he was joking - at first. When I realised he wasn't my mind (if it wasn't already) went a complete blank, and stayed that way.
Taking over such a responsible job as Club Secretary at a moment's notice as from the AGM is bad enough, but when one's predecessor carried out the job as efficiently as Pauline obviously did, the task seems even more ominous. Luckily I was fully (rained in secretarial work but it's over ten years since I did any shorthand and I find I am a bit rusty on that side. However, the job of keeping the membership records up to date is quite straightforward and if those of you who move house will let me have your new addresses as soon as possible, I can make sure you receive all the literature that is sent out.
Now the 1973 season has ended I am wishing my life away until the new season starts again, when I look forward to meeting most of you again sometime during the summer.
ELIZABETH BROWN.
FROM THE TREASURER.
To all members.
I welcome this opportunity of being able to bring members, who were unable to attend the Annual General Meeting, up to date with the Club's financial position.
Naturally, any treasurer like's to advise the membership that all is well, but, unfortunately for the 1972 period I cannot offer you the Moon without a Space Ship. What has this to do with the Club's account? You may well ask. My reply is that we have no Space Ship, we have a Moon, all we need now is finance to get the Space Ship and the Moon is ours.
I am endeavouring to advise you that our position during 1972 did not produce the finance, hence no Ship, hence no Moon, however, the Moon remains and I hope that 1973 results will allow us the freedom to go to the Moon.
The year ending December 1972 showed a loss of £225.88, alarming yes, desperate no.
Many factors have to be taken into account and, for example, we all know only too well the rate of escalation which has affected us all in many ways, when I tell you that for every subscription of 50p received, it cost the Club approximately 62p in costs, i.e. printing, postage, etc you will realise that we were starting off on the wrong foot by as much as 12p per subscription. All very well, you may say; but what about the new members entrance fee of 50p. May I put it to you that to
break even we would require one new member to every three renewals and then we, only have approximately 2 p left, not much, is it.
You will realise perhaps, one of the reasons that an increase of subscriptions was necessary, even when we only requested an increase of 50p which, I am glad to say, was accepted by the members at the AGM.
Other areas which did not ease the problem were that sales of Club Equipment did not, unfortunately, provide the profit as per 1971.
Our interest from the deposit account was substantially reduced due to the account being used.
It should also be noted that Messrs. Thomson gave us a great deal of financial help to the tune of £159.00, again we offer our sincere thanks to them..
Our administration costs were lower than 1971 by £8.00, not much but at least we began to realise what good housekeeping was all about. Your Committee have joined me most whole-heartily in reducing costs for 1973 and I am very confident that we can go forward and make 1972 accounts 'a bad dream'. With the help and goodwill of all members, which for me has been my most treasured memory of 1973, 1 look forward to a far happier and healthier 1974.
Naturally after saying that we still have to reckon with the accounts for 1973 and with tongue in cheek, fingers and legs crossed, I sincerely advise you that a bloom has appeared. Your Club Equipment Officer, Mr. K. Miles, has been an excellent salesman, and the results of his endeavours will be seen in the next Club accounts. Your Rally Officers, many for the first time, have produced wonderful rallies throughout 1973 and, of course, excellent accounts results in this area are seen. Your Committee, of which each and every one, has virtually pawned themselves in an effort to produce good results both financially and for the Club members, will be without doubt reflected for the 1973 period.
Your Auditor, Mr. E. Hawksley, has been a tower of strength, not only to the Club but especially to your treasurer and with his continued help and advice, the future must be good.
Finally, I would like to take this opportunity of saying to all members, thank you for your support and for making 1973 Season a happy one for my family and self, and I look forward to 1974 with great expectations. Should you wish to chat on Club Accounts when rallying, please do not hesitate to shout.
See you all in 1974
J. W. COCKLE
Hon. Treasurer
SUBSCRIPTIONS - 1974
Dear Member,
Your subscription for 1974 is due on January 1st.
You are reminded that subscriptions have been increased to £1.00
Please tear off slip and forward together with your subscription.
Hon. Treasurer.
Send slip to:
J. W. Cockle. Esq.
Thomson Owners Club
I enclose the sum of £1.00 Postal Order / Cheque. This covers my subscription for 1974
Membership No. ____ ______
Name ___________________
Address __________________
FROM THE RALLY SECRETARY Rally News
With only the Christmas rally to go, the 1973 season is almost at a close. Looking back over the year, we have held 27 rallies, 8 in Scotland and the rest south of the border. We have also had several 'firsts' this year. Rally Officers from N orth and South ran the joint 100th rally, and for the first time the teenagers organised and ran their own rally at Upper Quinton. The Scottish Division too, have now organised a Teenage Section.
Four 5 -day rallies were held including the first one by the Scottish Division at Dornoch, which was the furthest north the Club has so far travelled.
We were very glad to welcome new faces amongst the rally officers, and we are always very pleased when fresh volunteers come forward. Something like 37 vans attended the first rally at Lytham and 62 at Upper Quinton, and the average for the year was well over 70 vans per rally.
When looking forward to the coming season, it looks at the time of going to print that we shall all spend the winter fitting shafts to our caravans and asking rally officers to provide hay and stables for our horses, unless of course, we can per­suade Thomson's to make cara-barges and take to the waterways. However, looking on the bright side, we have planned over 29 rallies starting-with the Winter Ceilidh in Scotland. You will probably recall from the last magazine that we have tried to spread rallies more evenly over the country, and to some degree, have been successful in this. We are also planning two consecutive five-day rallies in Cumberland, both prospective sites being fairly near each other, which we hope will enable members to holiday in this lovely area without too much travelling between rallies. You will probably realise that these are preceded by a Scottish rally, and we hope to see an interchange of friends from both sides of the border at these rallies.
So here's hoping you winter well, and that the snow will have disappeared by March and we can meet again on the rally fields in 1974.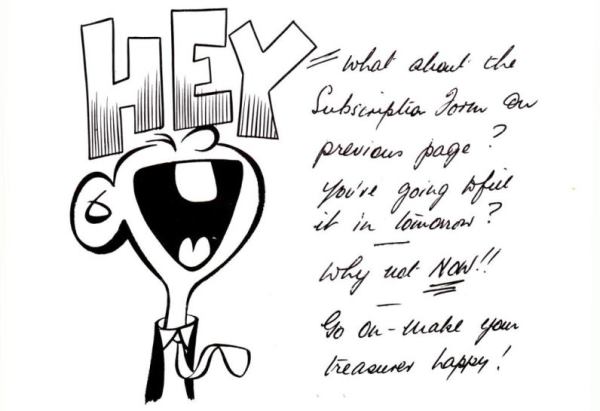 CLUB EQUIPMENT
Club Pennants 85p
Lapel Badges 20p
Car Badges 75p
Ties -New £1.05
Old £1.45
Cuff Links 95p
Window Sticker 1Op
Union Jack Pennant 75p
Headscarf £2.10
Window Plaque £1.30
Pennant Mast £1.81
Prices subject to alteration without notice.
Each of the above may be obtained at rallies or by post from Mrs. Hastings.
TEENAGERS NEWSLETTER
Looking back over the last rally season, the teenagers feel that this has been the year when they have 'come of age'. We have been asked to help at several rallies, and although sometimes a little early in the morning, we welcomed the opportunity of knocking on doors with the papers as this presents a good opportunity of getting to know people. At Bude Holiday Rally we organised the sports events for the younger children and in the evening we arranged a sausage barbecue for everyone.
Our biggest venture was the Upper Quinton Bonfire rally which we ran completely on our own (with a little guidance from friendly adults!!). T e boys spent Friday chopping wood for the bonfire - they haven't worked so hard for a long time - and the girls looked after the catering side and we spent Saturday afternoon grating 5½ lb of cheese and also had the pleasure of prodding 300 potatoes, also aided by the boys. We had a great deal of fun, plus some disasters, at the social, and having profited from our experiences at this rally, are looking forward to our next rally which we hope will take place in August 1974. Incidentally, we would like to thank all those who supported us, particularly for the donation of something like 37 raffle prizes.
We would also like to thank you for the generous donation of Green Shield Stamps, of which we used some for the raffle prizes, so if you have any more to spare we would be most grateful..
Well, the 1973 season has now almost closed, and most of us are going into temporary hibernation ready to emerge fit and willing for the 1974 season, so may we wish you all happy caravanning, and look forward to seeing you at the crack of dawn with the papers next year.
Sincerely,
THE TEENAGERS
CLUB SITE EQUIPMENT
An urgent request from your Committee members Gordon Merrick and Ron Ansell, who are responsible for the equipment used at rallies. Will any member holding Club equipment please notify Gordon or Ron at their addresses or telephone numbers as given below. This information is urgently required so that equipment can be checked during the winter and a correct inventory and valuation made.
DINNER DANCE 1973
The Dinner Dance was held again at the Randolf Hotel, Oxford on Saturday, October 27th.
Bill Smith reports that a successful evening was enjoyed by all, dancing to the Vic Good Band until 1.00 a.m., at which time the coach was ready to return the revellers to their caravans at Temple Farm Country Club, Sandford-on-Thames.
118 people attended, including our guests, Mr. & Mrs. Trail! (Thomson's) and Mr. & Mrs. Styles (Summertown Caravans) from the first dance when 48 people attended, the total reached 174 in 1972.
Bill also wishes to thank all those who have helped him organise the Annual Dinner Dance.
SAFETY FIRST - - SOME REMINDERS!
When did you last check the tightness of the wheel nuts of your caravan (or even of the car?)
A member recently had the unfortunate and alarming experience of losing a wheel from his caravan whilst towing on the Ml. The stud holes in the wheel were distorted and torn whilst two of the mounting studs on the hub had been sheared off. He was fortunate not to cause serious damage to the caravan and was delayed for several hours, resuming his journey only after a most ingenious repair.
We could all benefit from his experience and carry out these vital checks at fairly frequent intervals.
Editor's Note: Having had two cases of ply separation on the inner walls of the caravan tyres, I have to thank other road users for stopping me and drawing my attention to the large blisters that had formed. The bursting of such a "bleb" could have had serious consequences in throwing the outfit out of control, particularly when cruising in the 45 -50 mph range. Since most of our travelling is done at night, we were indeed fortunate that these two instances (at an interval of about a year) were seen by other road users in the daytime who took enough trouble to stop me.
The moral - check the inside walls of your tyres at frequent intervals also.
HOW TO FIT SPARE WHEEL TO UNDERSIDE OF CARAVAN SO WHEEL CAN BE REMOVED FROM REAR OF VAN.
Since I entered this for the Owners Improvement Competition at the AGM this year, so much interest has been shown by other ralliers (one of whom has already copied the idea) that I felt more of you might like to know about it.
Materials required:
4ins x 2in timber, roughly 49ins long to fit between chassis members 2 pieces of steel bar 3/16ins x 1/4 ins about 8 ins longer than the height of tyre. 2 strong door hinges with screws 2 brass (if possible) bolts (5/16ins) with wing nuts.
Method. The object is to position the spare wheel underneath the rear of the van to one side between the steel chassis members to that it fits flush against the floor­ ing. It will be found that a wooden floor bearer prevents this. Cut and remove suffic­ ient of this bearer to allow wheel to rest against flooring. Then fit 4in x 2in timber into chassis so as to come directly in front of spare wheel. Nail or screw into position.
Offer up spare wheel. Keeping it as near to one steel chassis member as possible without fouling caravan leg, nail back piece of wooden bearer so wheel cannot come out sideways.
Bend steel bars to correspond with the shape of the underside of the spare wheel and keeping them about 12ins apart, hinge them to the 4in x 2in timber. The other ends of the bars should fit flat against the rearmost steel chassis member making sure that the wheel is held tight up against the flooring. (This gives support to the floor where the wooden bearer has been removed). Secure the bars to the chassis using the brass bolts and wing nuts.
Roy Brown
ANNUAL GENERAL MEETING 1973
The AGM Rally was held at Stafford Showground on October 12-14th, and 137 outfits attended. The meeting itself was held in the hall on the site at 2.00 p.m., on Saturday, October 13th.
While the parents were involved in the meeting, the Children's Party kept the youngsters occupied in another room in the same building and they were looked after very well by Rally Officer Terry Harper and his assistants Mrs. Merrick, Mrs. Ansell, Mrs. Easson and Mrs. Thompson.
The detailed account of the meeting will be given in the minutes to be published in due course. However, the officers and committee elected for the coming year are as follows:
President: Mr. W. H. Smith
Vice-Presidents: Mr. F. Hathaway, Mr. T. Marsh, Mr W Smith
Chairman: Mr. B. W. Buchanan
Vice-Chairman: Mr. W. J. Neagle-Jones (Public Relations Officer)
Hon. Secretary: Mrs. E. Brown
Hon. Treasurer: Mr. C. W. Cockle
Hon. Rally Secretary; Mr G. H. Paull
Committee:
Mr. R. Ansell (jointly responsible for site equipment)
Mr H Bamford (responsible for competitions
Mr. E. M. Fixter (assisting Rally Secretary)
Mrs. L. Hastings (responsible for club equipment sales)
Mr. R. Lacey (responsible for social activities)
Mr. C. G. Merrick (jointly responsible for site equipment)
Mr. W.H.Smith
COMPETITIONS AT THE AGM RALLY
In this very busy weekend, a number of competitions were held, and proved to be very popular with the members. The judges of the sponge cake decoration competition for the ladies and young ladies and the Owners' Improvements competition had an extremely difficult task. We are therefore particularly grateful to first ralliers, Mr. & Mrs. Westlake and Mr. & Mrs. Pugh for their judging of the cake decoration.
Our very good friends from the Thomson factory, Messrs. Henry Dunsmore and Cunningham Dykes performed yeoman service in visiting all members who had entered the Owner's Improvements competition. They again gave us the benefit of their knowledge and experience of caravan construction in choosing those entries which were especially commended and in giving their judgment of the winner. Mr. Dunsmore and Mr. Dykes also helped greatly during the AGM meeting by acting as tellers during the committee elections.
On Sunday morning, our President's lady, Mrs. Win Smith presented the trophies to the following winners and runners-up.
Hathaway-Smith Trophy - Men's reversing.
Winner: Mr. E. Flynn; Runner-up: Mr. B. Hastings.
Amber Neagle-Jones Trophy - Ladies' reversing.
Winner: Mrs. L. Hastings.
Rowland Lewis Trophy - Owner's improvement
Winner: Mr. L. Underwood.
The entries of Mr. G. Stables and Mr. P. Wilkes were highly commended.
Yorkshire Caravans Trophy - Ladies' Competition
Winner: Mrs. S. Buchanan, Runner-up: Mrs. D. Cockle.
Ennis Caravans Trophy - Young Ladies' Competition
Winner: Miss Karen Potter. Runner-up: Miss Penny Marney.
Ennis Caravans Trophy - Young Hen's Competition
Winner: Ian Buchanan, Runner-up: Tony Miles.
Trapnell Trophy - Christmas Card Design
Winner: Karen Godfrey
Inside Motif (up to age 12)
Winner: Neil Fell (age 10)
In view of his involvement in competitions at the AGM, your Editor wishes to give special thanks to the following for their ready and able assistance with the various events indicated.
Ladies' Competition - Terry Harper;
Boys' Competition - Sid Ross;
Reversing Competitions - Barry Bagland and Alan Smith.
Also to Gordon Dance for arranging the loan of a caravan from Western Valleys caravans for use in this competition.
VINTNERS' PAGE
Tea Wine.
A contradiction in terms?
Not so, for if well made it resembles a medium sherry! This wine is easily made and is an ideal winter project now that the hedgerows are empty and the fruiting season is over.
Recipe:
1 gallon of tea (saved from the teapot after meals)
1/2lb large raisins.
3 to 3 1/2lb white sugar (Demerara may be used if preferred)
2 lemons
1 packet of yeast and 1 packet of yeast food.
Add the tea to the sugar and the juice of the lemons- Stir well until the sugar dissolves, then pour into a fermenting jar together with the yeast and chopped-up raisins. Fit an air trap to the jar and leave until fermentation ceases. (An airing cupboard is ideal for fermentation as it is generally at a suitable temperature). Syphon-off the liquid and allow to settle for two to three months in a stoppered bottle. Syphon-off the clear liquid, bottle and store for a further 6 months to mature before drinking. B.W.B.
LADIES' CORNER
Some simple recipes for our lady members to try out.
Bun Loaf.
An easy-to-bake sweet loaf that stays moist and keeps well.
1 cup of "All-Bran" 1 cup of brown sugar
1 cup of sultanas 1 cup of milk.
Mix together and leave to stand overnight. Stir well and then add 1 cup of self-
raising flour. Blend well. Grease and line a 1 Ib loaf tin with greaseproof paper.
Bake for approximately 1 hour at 375°F (Reg. 5/6) or until firm to the touch. This
loaf matures in an airtight tin for a few days. Slice fairly thinly and spread with
butter. S.B.
Boned Breast of Lamb.
One way of making the best of a cheaper cut of meat.
Bring to the boil the lamb and the bones, add seasoning to taste. Then simmer and skim off any fat. Cook meat until tender. Remove lamb from saucepan and allow to cool. Cut into pieces, coat in flour and dip in beaten egg. Sprinkle with bread­ crumbs and fry to a golden brown. Serve with vegetables. Keep stock for soup or gravy. A.N-J.
NEWS OF MEMBERS
Mr. & Mrs. Henshaw of had the misfortune to be involved in an accident when leaving the Saturday night social at the Auchenbowie rally. Their car was damaged and both were badly shaken.
Your Editor has since heard from them that they are now feeling no worse for their experience and the car has been repaired. They also wish to emphasise that this has made no difference to their interest in T.O.C rallies and we shall therefore look forward to seeing Mr. & Mrs. Henshaw again in the 1974 season.
You will be pleased to hear that Kevin Cockle has passed his driving test at the first attempt. Congratulations, Kevin.
COMPETITIONS
Your Committee member for competitions, Bert Bamford, wishes to remind you also that two other competitions are still open for the 1973 season. These are the Adventure Caravanning Logs (British Isles and Overseas sections) and the Photo­ graphic competitions. These are:
1. Colour slide containing an identifiable part of a Thomson caravan. Open to all members.
2. Black and white print up to 1/2 plate size depicting a subject appropriate to caravanning. Adults.
3. Black and white print up to 1/4 plate size, of any subject - Juniors up to 18yrs.
Entries must be received by January 31st 1974. So please send to: Mr. H. Bamford
New Competition
A new competition has been introduced to the Club schedule. Launceston Caravans presented a trophy to the Club, which they wished to be awarded to the junior members. It was a decision of the Executive Committee that a series of field sports events be held at the Bude Holiday Rally in August, and the maximum age for entry was set at 12 years. The whole series was organised by the Teenagers, by dividing the children into three age groups. A clever system of awarding points to the first, second and third in each event for each group facilitated the selection of the overall winner as well as winners in each group. Medals were awarded to Michael Jeffery (under 5) and Mark Gardner (9 -12) as winners in their age groups. The over­all winner was Dawn Miles aged 7. Dawn is therefore the proud holder of the Launceston Caravans Trophy until the August 1974 Holiday Rally, when a further series of field sports will be held. Well done, Dawn!
As the youngest competitor, Andrew Cole, aged 21 months (Gloucester) was also presented with a medal by Mrs. Neagle-Jones.
A complete schedule of the Club competitions will be included in the Spring 1974 issue of the magazine.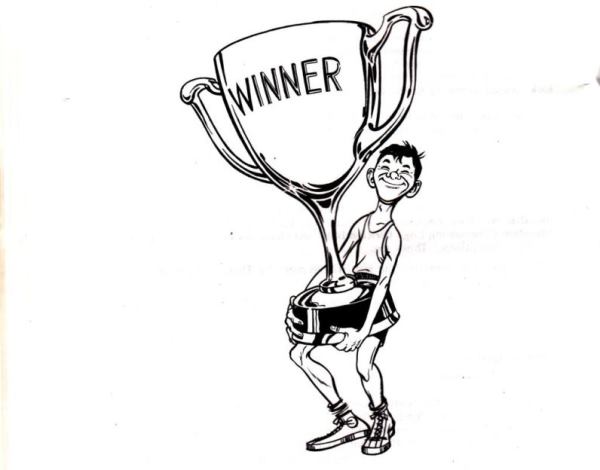 FROM YOUR EDITOR
This second issue of the Club Magazine has been produced at rather short notice, but we hope that you will find that it was worth the midnight (and later) oil that was burned and the efforts put in by all the contributors. While these have been mainly from Committee members at this time, please remember that this is the most effective means for the exchange of news, comments, information and other matters of mutual interest among the members of the Club.
We have been able to produce this issue in a printed form, which we feel gives it a more professional appearance befitting a Club of our standing in the caravanning world Because it is printed we are now able to accept sketches, cartoons and similar contributions from those who have a flair and talent for expressing themselves in this way.
As this is my first attempt at producing a magazine since my University days, I would request your sympathetic indulgence for any deficiencies and short-comings that you may find in this issue. This is further aggravated by my attempting to wear two hats (the one for Competitions Secretary I have had for three years). Furthermore my Editor hat does not fit very well as yet.
However, I am extremely grateful for the ready assistance I have had from the other members of the Executive Committee.
Finally, therefore my wife. Amber, joins me in wishing all of you a Happy Christmas, prosperity for the New Year and a hope that we shall meet you again in 1974.
BILL NEAGLE-JONES, Editor.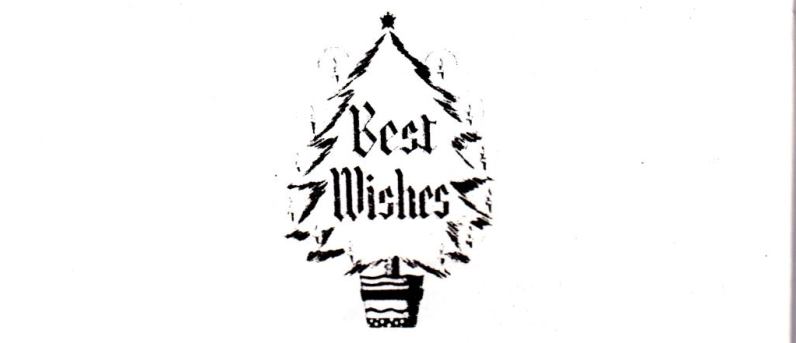 Owens. Printers, Swansea.